Frank Hartman's Lead Pig for Radium Sources (ca. late 1940s, early 1950s)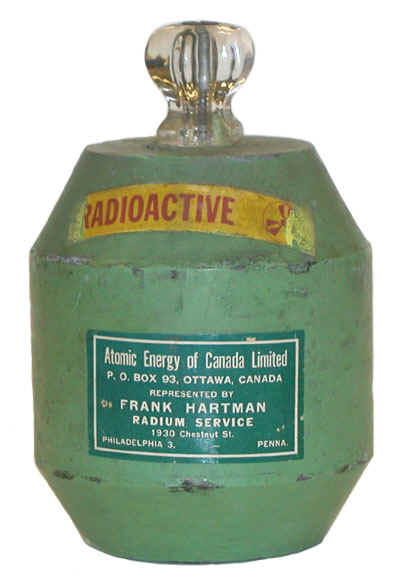 Frank Hartman was a radium sales representative in Philadelphia during the 1930s, 1940s, and 1950s. This particular lead "pig," which belonged to him, is approximately 4" high (not including the glass knob) and 3 1/2" in diameter. The cavity in which the source would be kept is about half an inch in diameter and half an inch deep. The distance from the opening in the top of the shield, where the plug goes in, to the top of the central source cavity is two inches. The distance to the bottom of the source cavity would therefore be two and one half inches.
Quoting Joel Lubenau: "In Philadelphia, Frank Hartman, a radium sales representative, left a written record in the form of personal notes of his searches for lost and stolen sources. Hartman's notes cover 120 cases from 1930 to 1958. Like Taft, he used willemite ore as well as ZnS, electroscopes and GM detectors. The 120 cases represented a total of 4.259 grams of lost or stolen radium. Of this, he was able to recover 3.806 grams or 89%, an amazing percentage considering the primitive nature of his radiation detection devices and a tribute to his thoroughness and tenacity. Also amazing were his "repeat customers," one of whom lost radium on eight different occasions!"
Reference
Joel Lubenau. A Century's Challenges. Historical Overview of Radiation Sources in the USA. IAEA Bulletin, 42/3/1999, pages 49-54.