Radium Capsules/Screens (ca. 1930s to 1960s)
Capsules and screens look much like the radium tubes that were used for brachytherapy, except that they are larger. Just like tubes, they would be placed inside a cavity (e.g., the uterus) or on the surface of the body, possibly in a mold.
As best as I can determine, the difference between a screen and a capsule is somewhat ambiguous. The purpose of a capsule was to hold radium tubes or needles. By using various combinations of tubes or needles in one capsule, a greater range of activities could be obtained. The purpose of the screen was to change the filtration of the radiation. As such, a device could serve as both a capsule and a screen. Gold, silver and brass were the most common materials used for screens.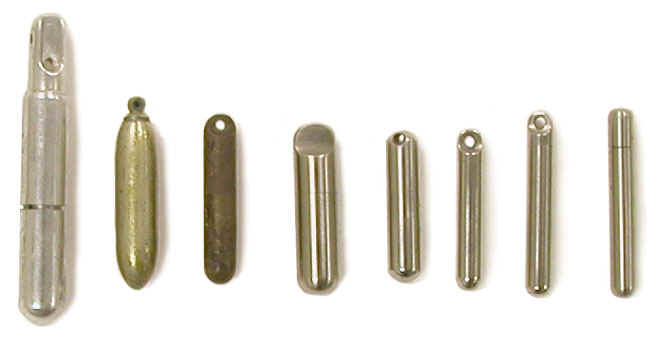 Unfortunately, I have little useful information about these examples. The one on the left is fairly large and made of aluminum. The second from the left is made of brass and, as such, I would identify it as a screen. It is undoubtedly the oldest of the devices here since I have only seen this style of eyelet in the literature of the 1920s and 1930s. The third device from the left is a brass screen and was identified as such in a display case that carried a label reading "Atomic Energy of Canada Limited, Commercial Products Division, Ottawa Canada." Nevertheless, the homemade appearance of the display suggests that it was not an "official' one. The other devices are made of steel. Two, the fourth from the left, and the one farthest to the right, have no eyelet. This would suggest that they were used for superficial, rather than intracavity, therapy. The second and third from the right have what was called a flat or Aplati eyelet. The fourth from the right has a "bulldog" eyelet.
References
Paterson. The Treatment of Malignant Disease by Radium and X-rays. Edward Arnold & Co. London. 1948.
Union Miniere du Haut Katanga Radium Department. Radium. Brussels. No date. ca. 1928-1930.
X-Ray and Radium Industries Limited catalog. No date. ca. 1950s.
Radium Chemical Company of Colorado catalog. Copyright date 1921.