Radium Chemical Company Carrier (ca. 1940 to 1960s)
This is a shielded carrier for brachytherapy sources. It was sold by the Radium Chemical Company, probably in the 1950s, but possibly earlier.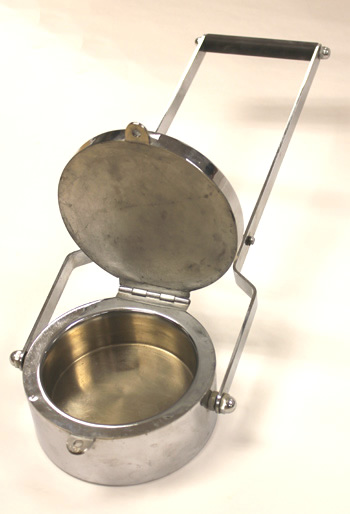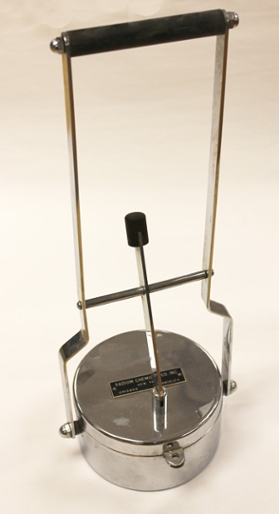 The company's catalogs that I have seen show something similar, except that the shielded potion of the illustrated carrier was a rectangular box rather than a cylindrical one like ours. These catalogs refer to it as an "Ernst Carrier."
An undated X-ray and Radium Industries Ltd. catalog includes a device that is almost identical to ours—they describe it as an "Operating Room Carrying Case."

A transport cart with rubber wheels was available from Radium Chemical Company for moving the carrier around.
Height: 20" to top of handle
Shield: 3" high and 6" in diameter
Shield walls: 0.5" thick
References
Radium Chemical Company catalog. Radium Radon. No date. ca. 1940s, 1950s.
X-Ray and Radium Industries Limited Canada. Catalogue of Radium and Accessory Equipment for Modern Radium Therapy. No date.