Radium Chemical Company Display of Radium Containers (ca. 1940s to 1950s)
This comprehensive display of radium brachytherapy sources and containers indicates the range of products that were available from the Radium Chemical Company. It would have been mounted on the wall of an office and/or taken along by a company representative during visits to potential clients.
The ORAU collection also includes a smaller display that served much the same purpose.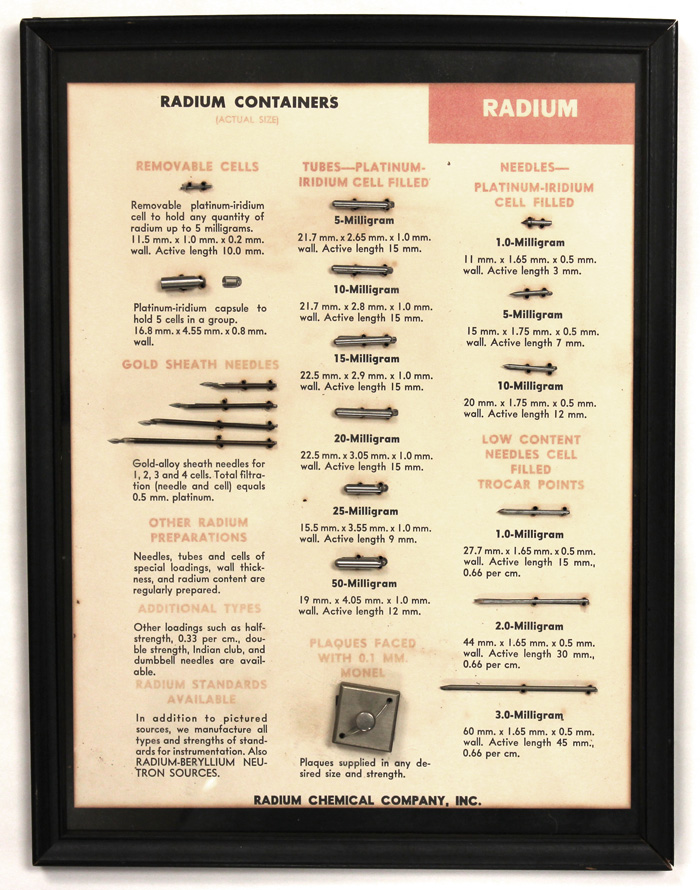 Additional information about these items can be obtained from the company catalog.
Radium Chemical Company was originally organized as a subsidiary of Pittsburgh's Standard Chemical Company (SCC). This would have been sometime between 1914 and 1920. In 1983 when Radium Chemical Company ceased all of its commercial activity, it was the last remaining vestige of SCC. Its facility at 60-06 27th Avenue in Queens, NY became a Superfund site.
Size: ca. 9.5" x 12.5"
Kindly donated by the Jacobson Family in honor of Dr. Gerald A. Jacobson Capt. PHS.