Uterine Radium Applicator (1930 to 1970)
This is a cervical-uterine applicator that could date anywhere from 1930 to 1970. Unfortunately there are no markings on it of any kind. Since a large number of companies manufactured this types of device, I won't even hazard a guess as to who made it.

It is 3 3/4" long and 1/4" in diameter and there are three compartments for sources: two in the uterine stem (one is seen in the photo below right), and one in the cross arm at the cervical end of the applicator. The latter end of the applicator has a small hole (not seen in the photos) through which a cord could be threaded.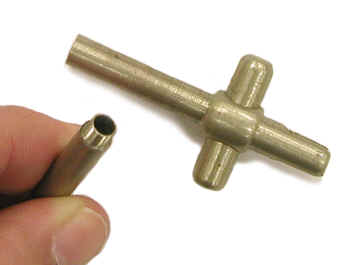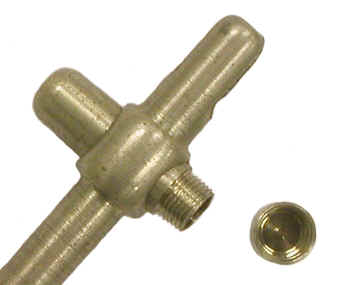 In a typical treatment, the applicator might be loaded with 50 to 100 mg (mCi) of Ra-226 distributed uniformly in the three compartments. Multiple treatments over several days would be used to obtain an exposure in the range of 7000 to 8000 milligram-hours.
References
X-ray and Radium Industries Limited Catalog of Radium and Accessory Equipment. No date (ca. 1940s)
Canadian Radium & Uranium Corporation Catalog of Radium and Accessory Equipment. copyright date: 1941.
Quincy X-ray & Radium Laboratories, 1942-1943 catalog Improved Swanberg No. 5, No. 6, No. 7, No. 8 & No. 9 Silver, Adjustable, Utero-Vaginal, Radium Applicators.
Radium Chemical Company Inc. product catalog titled "Radium Radon." No date.