Radium Boot Polish (ca. 1905)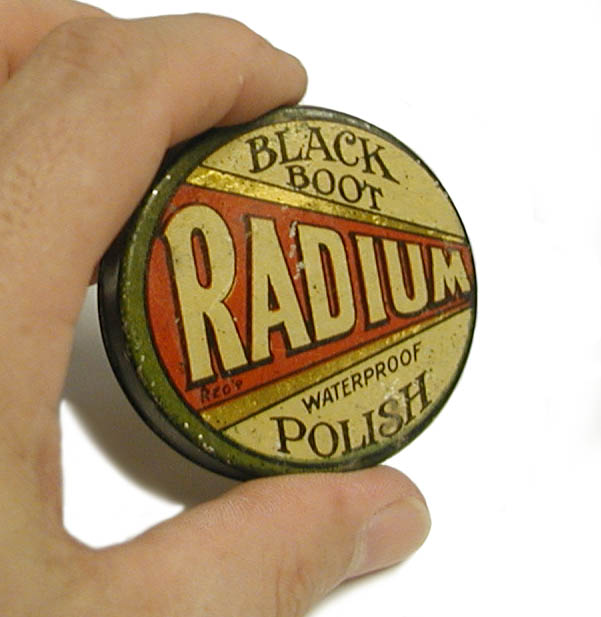 A can of Radium brand boot polish with a small cake of dried polish inside. Not radioactive, but possibly usable.
The text on the side of the can indicates that it was made in England: "Radium Polishes Ltd. Broadheath Nr Manchester"
The only information I could find about this company is in the following description of a "Shoe and Leather Fair" published in Saddlery and Harness (1905):
"Attention of visitors was attracted at this stand by a gargantuan tin of polish measuring a yard in diameter, artistically decorated. The production of Messrs. Lord Bros. and Co. are well known, and they are the makers of a large number of preparations which come under the name of "Radium"—included amongst them being their "Magic" black and tan polishes, their liquid blacking, their dubbin, etc., etc, They also make a special harness preparation known as "Radium" dressing. The policy of the firm is to produce goods of the highest quality at the lowest possible price. The productions of this house are all made under the personal supervision of Mr. S. Lord at their "Radium" Boot Polish Works, Broadheath, Manchester."
The following advertisements (1910) are for a similar product that was produced by McLeod & Son of New Zealand. If you lived in New Zealand, having to import your Radium Boot Polish from England could be expensive.
Size: 2 1/8" (diameter x) 5/8"
References
Dominion. Volume 3, Issue 865, July 11, 1910.
Saddlery and Harness. Volume 14. 1905.