X-Ray Brand Stove Polish Can (ca. 1902 to 1926)
X-ray stove polish was produced by the J.L. Prescott Company at 27 8th St., Passaic, New Jersey. The company was founded in the 1870s in Maine by James Lewis Prescott. His son, Amos, built the New Jersey facility. Some of their other products include Black Silk stove polish, FYR-Pruf stove polish, "Black Cat" shoe polish and "Dazzle" shoe polish.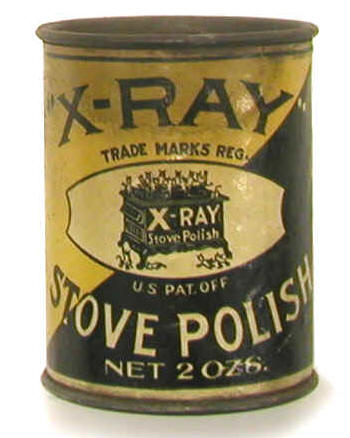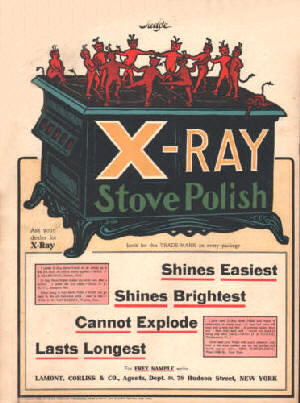 The copyright date on the can is 1902. That year it sold for 5 cents (Brooklyn Daily Eagle, January 26, 1902). The last advertisement I have found for the product was placed in the October 2, 1926 issue of the Bridgeport Telegram.
The back of the can reads: "A durable, rich, black gloss. Goes twice as far. Cannot explode. Shines brightest. Shines easiest. Shines quickest. Lasts longest. No Rust. No dust. No odor. No smoke. No stained hands. No dried up paste."