Sign for X-Ray Brand Headache Tablets (ca. 1900)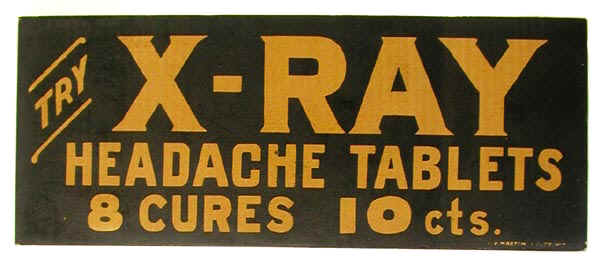 This is a thin cardboard sign (5 1/2" x 13 1/2") advertising X-Ray Headache Tablets. It is the sort of sign that would have been seen in a streetcar or bus in the row of advertisements located just above the windows.
The following is the text of an advertisement for this product that appeared in the Gettysburg Compiler December 19, 1899:
"X-ray Tablets. Results are better than promises. The results of the X-Ray Headache Tablets are always certain and prompt. They are cheap and convenient to take; you need neither spoon nor water. They can be carried in vest pocket or pocket book. They can be dissolved on tongue, reduced to powder or swallowed whole. EIght doses for 10 cents. Prepared by The Weaver—Markel Chemical Co. Union Bridge MD. Sold Everywhere. Inquire for them."