X-Ray Razor Blades (ca. 1930s, 1940s)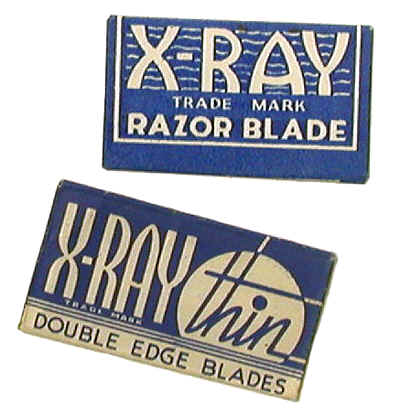 These razor blades were manufactured by the X-Ray Blade Corporation of Newark, New Jersey. To be specific: 32 Green Street.
The back of the upper envelope in the photo states: "Improved wrapper. Keeps the blade from sliding end-wise and prevents dulling of edges usually caused by vibration in transit." The Patent Number on the blade, 2,324,016, was issued in 1943.
The back of the X-Ray thin Double Edge Blades envelope (the lower of the two in the photo) says "This fine razor blade is made of high grade Swedish surgical steel, and is guaranteed to give complete satisfaction." It has no patent number associated with it. It also appears to be the older of the two.
The earliest advertisement that I have run across for X-Ray Razor Blades dates from 1934 (Pittsburgh Press. Apr. 27, 1934). The latest was from 1942 (Zanesville Times Recorder, Dec. 3, 1942).