CD V-705 Speaker for CD V-700 (ca. 1964-1965)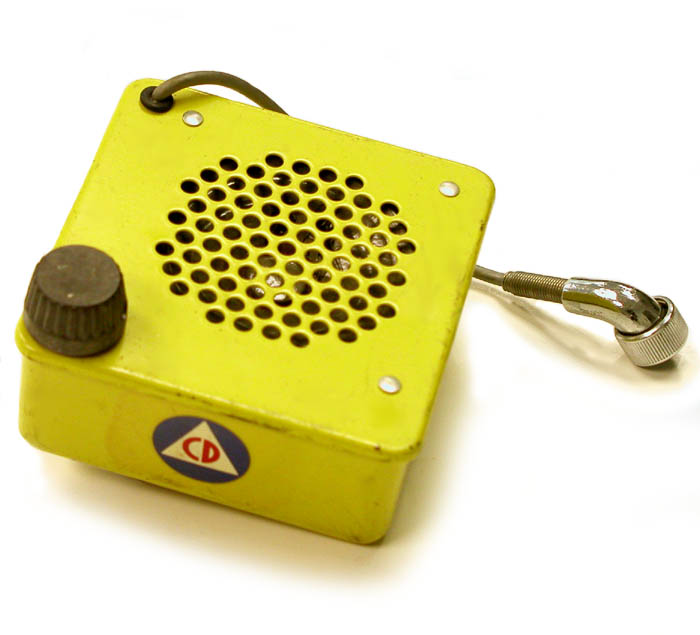 The CD V-705 is a speaker designed to provide audio output for the CD V-700 GM survey meter. Headphones were usually employed with the CD V-700 but a speaker could be more convenient.
Nevertheless, the 705 was really intended to be used for training purposes—in a classroom setting it could be difficult to see the meter, but everyone would be able to hear the audio output.
The example pictured to the right is a Model 1 (Serial No. 210) manufactured by Jordan Electronics.
The knob on the top of the unit is the volume control. A pair metal clips on the back are used to attach the speaker to the side of the CD V-700's case, but accomplishing this can require a bit of brute force.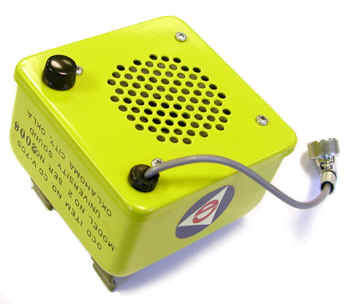 Only 10,000 or so were ever manufactured.
The photo to the left shows a CD V-705 Model 2 manufactured by University Sound.
Size: 4" x 4" x 1.75"
Weight: ca. one pound
In the earliest reference that I am aware of to what would become the CD V-705, the 1961 Annual Report of the Office of Civil and Defense Mobilization stated "A prototype loud-speaker attachment, suitable for use with the V-700 Geiger counter survey meter as a classroom training aid, is being developed by Randam Electronics, Inc." The prototype was designated the CD V-750BX according to the Office of Civil Defense's 1962 annual report.
According to the OCD Annual Statistical Report for FY 1964, a contract was awarded for "1,250 loudspeaker units which were attached to the CD V-700 for training." A year later, the FY 1965 Statistical Report indicated that 10,000 were in the national inventory but that none had been distributed. It seems that no more CD V-705 loudspeakers were ever ordered. The 1974 DCPA Annual Report noted that only 814 had been distributed while the rest remained in inventory.
References
Federal Emergency Management Agency, Radiological Instruments: An Essential Resource for National Preparedness, CPG 3-1, September. 1986.
Instruction and Maintenance Manual Loudspeaker. University Sound. 1966.