CD V-750 Model 6 Dosimeter Charger (early 1990s)
The primary purpose of the Model CD V-750 was to charge civil defense dosimeters (CD V-138, 730, 740, and 742). By charge, we mean adjust the dosimeter so that the quartz fiber, visible through the eyepiece as a fine line running vertically across the scale, is set at zero. What most people think of when they think of a dosimeter charger (which is not that often), is a 4" x 4" x 2" box with a knob and charging contact on the top and a flashlight battery inside. While Models 1-5 of the CD V-750 fit this stereotype, the Model 6 shown here is quite different. As can be seen in the photograph, it is pistol shaped.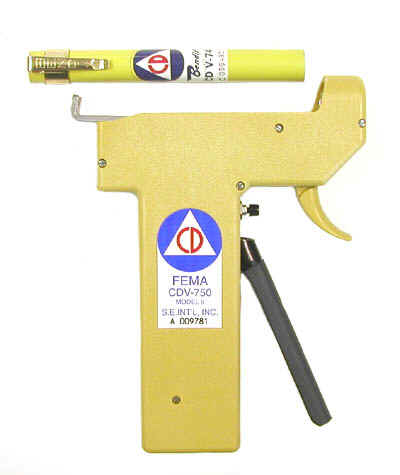 The beauty of the Model 6 is that it requires no batteries! By squeezing the black handle, a stress is created on a piezoelectric crystal. This stress produces the potential that is used to charge the dosimeter fiber (move the fiber to the left on the scale). The small black button above the handle is used to discharge the fiber (move it to the right).
To load the dosimeter into the charger, the yellow clamp trigger is squeezed. This causes the spring-loaded clamp (the "L" shaped gray bar in the photo) to extend back so that the dosimeter can be positioned along the top of the charger. When the clamp trigger is released, the clamp moves back in to hold the dosimeter in place.
The Model 6 was produced (ca. 1990 to 1994) by S.E. International Inc.
Donated by Marlow Stangler.
References
Marlow Stangler, personal communication.
Operation Manual for CDV 750 Model 6 Dosimeter Charger. This one page "manual" can be obtained from the Museum Library.