The following quote comes from the Office of Civil and Defense Mobilization (OCDM) Annual Report for FY 1958: "a radiological defense high school program was developed in cooperation with the Office of Education, departments of education in the States, and State civil defense directors to:
Help high schools incorporate radiological defense education into their science courses, and
Improve the geographical distribution of radiation detection instruments.
Scheduled to start in early FY 1959, the program will include the distribution of a specially designed radiological instrument kit to 15,000 high schools throughout the United States."
A footnote to the above reads: "The high school program is not an attempt to train teen-age radiological monitors for duty during a national emergency."
Despite the description of the CD V-755 as a "High School Kit," some of these also went to colleges. In most cases, it seems that the state authorities selected the schools that would receive the kits. This selection was based on "the basis of science department facilities, desire and location."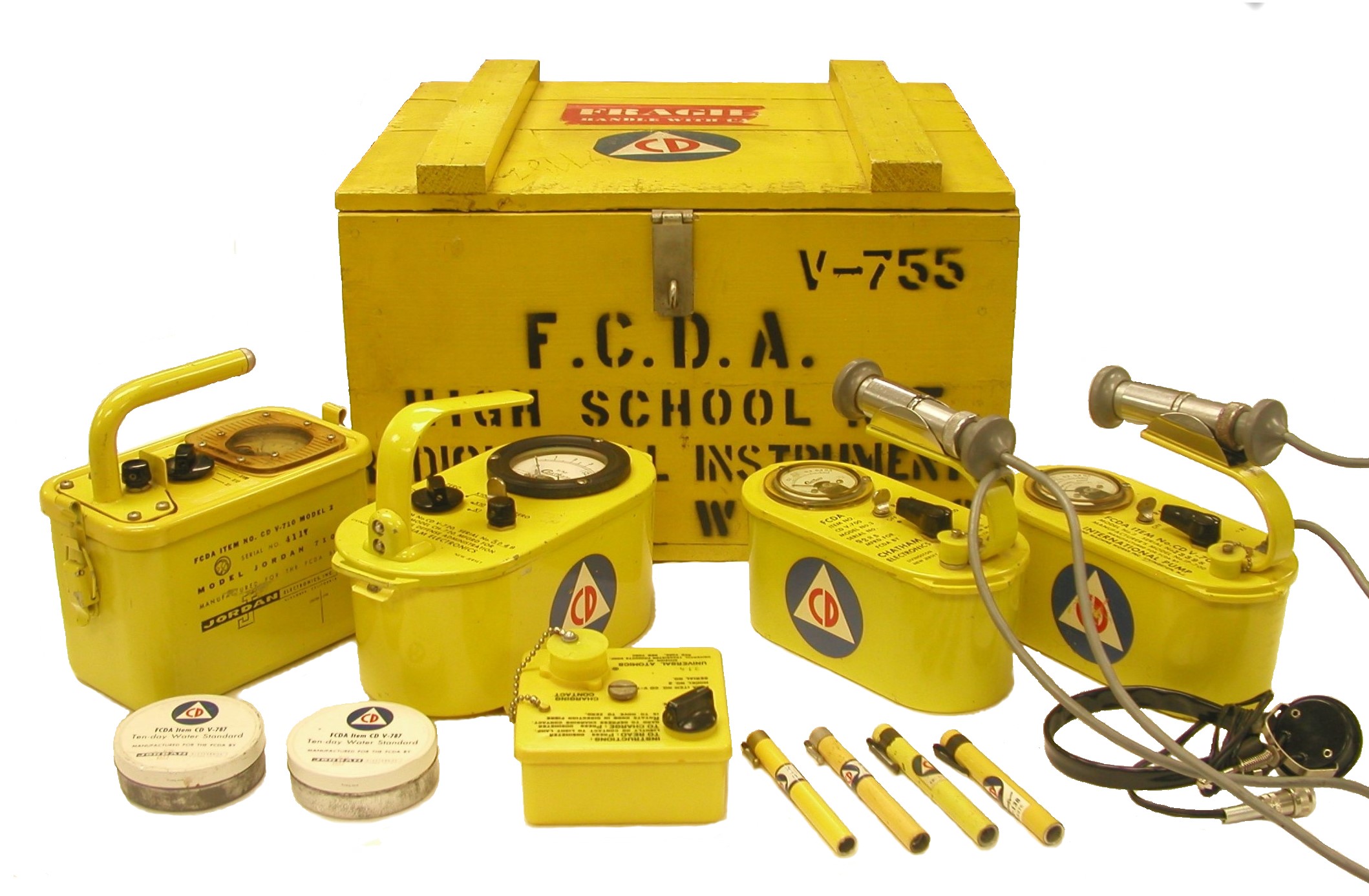 In addition to some miscellaneous literature, each kit contained:
Two CD V-138 Pocket Dosimeters (0-200 mR). Some of the distributed kits were missing one or both CD V-138 dosimeters.
Two CD V-700 Geiger Detectors with headsets (0-50 mR/hr)
One CD V-710 Ion Chamber (0-50 R/hr)
One CD V-720 Ion Chamber (0-500 R/hr)
One CD V-730 Pocket Dosimeter (0-20 R)
One CD V-740 Pocket Dosimeter (0-100R)
One CD V-750 Dosimeter Charger
Two CD V-787 Water standards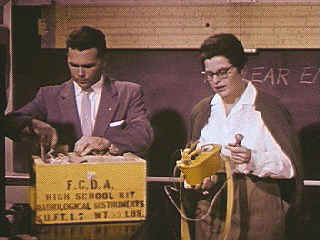 View a description of the FCDA instrument distribution program that was sent to the high schools.
Also see a nine-page FCDA document sent to the high schools providing detailed information about the instruments in the CD V-755 kit.
Also learn more about a 1962 OCD memorandum sent to the high schools regarding the maintenance and repair of the instruments. 
The following is taken from the forward to Handbook for Radiological Defense Education (1959), a manual intended for use in the schools that received these kits: 
"Recently a kit of radiological detection instruments was made available to your school by the Office of Civil and Defense Mobilization. These instruments were provided to assist high school science teachers in their nuclear energy and radiological detection instructional programs. Further, this nationwide distribution will enhance local civil defense radiological monitoring capabilities." 
Included in the Handbook were lesson plans dealing with the decontamination of personnel, materials and food (employing P-32), survival techniques, construction of fallout shelters, the use of radiation detectors, etc.
In many cases, these kits were also used to train local civil defense personnel in the use of radiological instrumentation. However, in the case of Menasha High School in Wisconsin, an article in the December 18, 1958 issue of the Appleton Post-Crescent noted: "There are four radiological detection devices in Menasha High School, but civil defense officials aren't utilizing them for training... The devices were loaned to the school after application was made to the federal civil defense office, but no one told local civil defense authorities about it... Dr. William L. Lea, state radiological officer, has said the state is woefully short of radiological monitoring devices and personnel."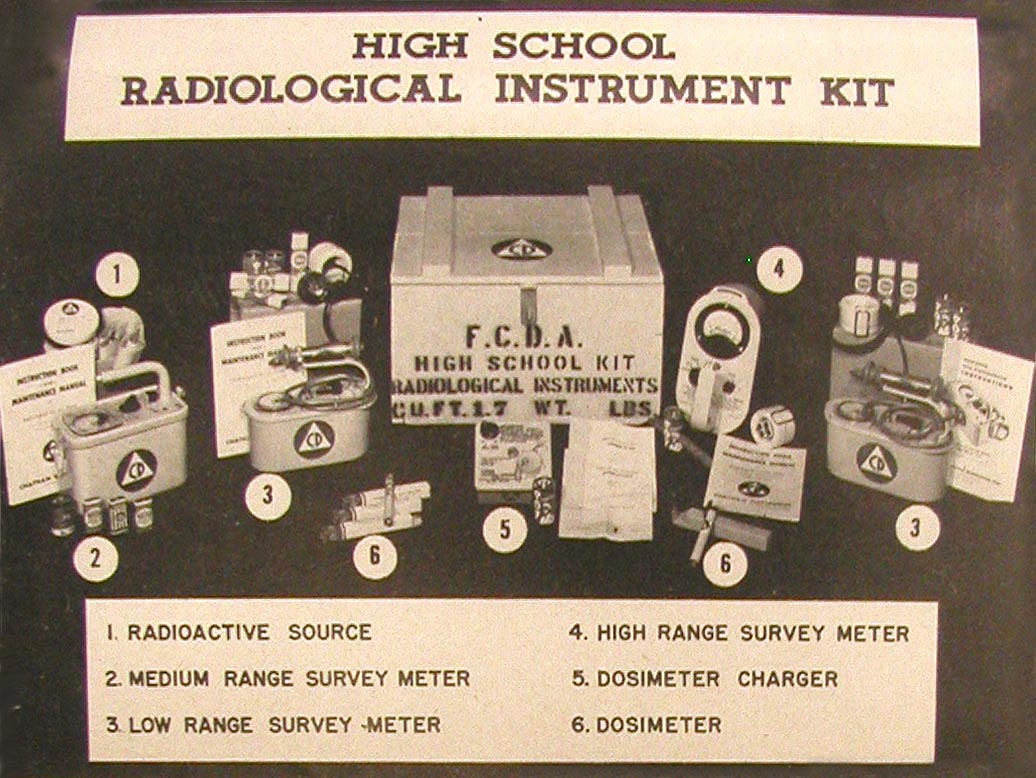 The photo above is from the Federal Civil Defense Administration's Annual Report for FY 1958.
Cumulative Distribution of High School Kits 
Quarter
Number of Kits
July 1 - Sept. 30, 1958
2,289
Oct. 1 - Dec. 31, 1958
5,962
Jan. 1 - Mar. 31, 1959
7,034
Apr. 1 - June 30, 1959
7,032
July 1 - Sept. 30, 1959
7,053
Oct. 1 - Dec. 31, 1959
8,685
Jan. 1 - Mar. 31, 1960
12,439
Apr. 1 - June 30, 1960 
14,506
The kits were distributed to all 50 States, the District of Columbia, Puerto Rico, Virgin Islands, the Canal Zone, American Samoa and Guam.
Initially it was thought that the equipment in these kits might be used at the local monitoring stations in the event of an emergency. However, it was later realized that the operability of such equipment would be doubtful after it had been used for training purposes.
One of the CD V-787 Water standards was kindly donated by Don Lanzrath.
References
Handbook for Radiological Defense Education. Prepared for interim use. Office of Civil and Defense Mobilization. January 1959.
Federal Civil Defense Administration. Radiological Instruments for Civil Defense.
Office of Civil and Defense Mobilization. Radiological Defense. Film. No date. Ca. 1961.