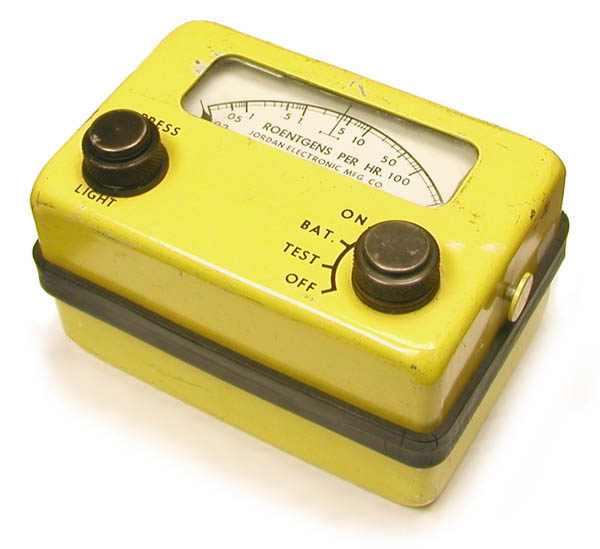 Although there is nothing on the outside of the case to identify it, this is the Model AG-15 Radector produced by Jordan Electronic Mfg. Co. Inc., of Culver City, California. Why do we think so? Because someone wrote AG-15A on the inside of the case, and the detector's appearance is identical to the photographs in the technical manual for the Model AG-15 (and AG-20).
As best as I can determine, the AG-15 and AG-20 were the first in the long line of "Radectors" produced by Jordan. My guess is that it was produced between 1952 and 1955 (even though "1962" is stamped on the inside of the case). They don't seem to have been produced for very long—the technical manual is the only reference I have seen to either the Model AG-15 or the Model AG-20. On the other hand, the Model AG-50, which came out in 1953, was clearly marked as such, and it continued to be produced throughout the 1960s.
That the AG-15 was designed as a civil defense instrument is easy to guess given the case's civil defense yellow. Furthermore, the manual notes:
"In order to meet the particular range required in the Federal Civil Defense Administration high intensity gamma ray detector (0.02 R/hr to 500 R/hr) an addition was incorporated into the circuit." 
The referred-to circuit was the Neher-White circuit employed by all of Jordan's "Radectors." The Neher-White ionization chamber had several interesting features: its current drove the meter directly (in a logarithmic mode) without any type of amplification; the electrometer tube was sealed inside the chamber; the chamber was of all steel construction; and it was filled with argon at high pressure (Neher's principal field of study was cosmic radiation, a field in which the use of high pressure ion chambers was commonplace). 
There is a sticker on the side of the instrument (not shown in the photo) that reads "On loan from State of California Disaster Office."
The difference between the Model AG-15 and the Model AG-20: the AG-15 measured up to 500 R/hr while the AG-20 measured up to 50 R/hr.
Detector: High pressure argon filled ion chamber
Range: Log scale, 0 to 500 R/hr
Dimensions: 5.25" x 3.5" x 3"
Batteries: Four 1.5 volt "penlight batteries", one 1.5 volt D cell
Reference
Jordan Radector Technical Manual High and Medium Gamma Radiation Detector Models AG-15 and AG-20. 1952. Kindly provided by Jason Wood.