"If the Bomb Falls" 33 1/3 RPM Record (ca. 1961)
It might not have made it into the Billboard top ten but this still has to be considered a classic. What you might call an early concept album. Side A is "What to Do in Case of Nuclear Attack" and Side B is "Supplies Needed for Survival." Just the thing to put on the turntable when time hangs heavy inside the shelter. And what makes this album a true collector's item is the fact that it was released on the Tops label owned by Precision Radiation Instruments (PRI) of Los Angeles. PRI, as you might recall, produced one of the quintessential survey meters of the 1950s, the chrome-plated Model 111B, aka "Deluxe Scintillator." Tops wasn't exactly an industry giant but they did record Lena Horne, Mel Torme and the Ink Spots. Don't ask why a radiation instrument company was in the music business, this was L.A.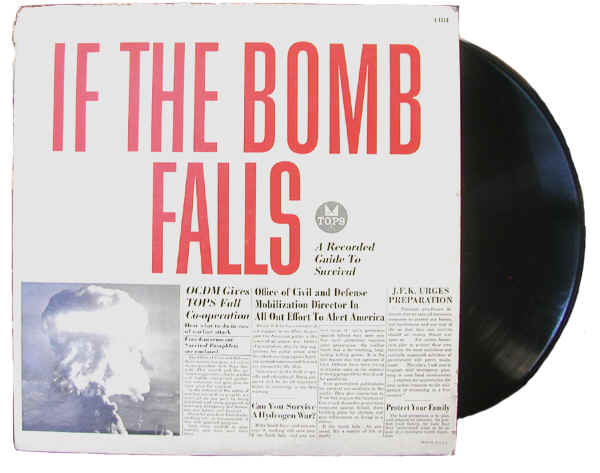 Quoting a November 1961 UPI press release about the album: "A new record album advising what to do to preserve life in a nuclear attack has taken off into a sales orbit of its own in the three months since the Russians announced they intended to resume A-bomb testing. It has passed the half-million mark in pressings. Its makers expect sales to reach a million albums by February, at the present rat... It has broken, by far, all sales records of the compan... Its previous biggest sale was 200,000 Lena Horne albums. "We made the album a little over a year ago and shelved it because it looked too scary then." said Larry Finley, a vice president of Precision Radiation Instruments, Inc., of which Tops is a division. "Then for a test, we put it in 200 stores across the country, 25 albums to a store. This was a couple of weeks before the Russians began nuclear testing. Movement was very slow. Then, the day the Russians announced it, we started getting telegrams from these stores saying that they were out and wanted more."
Reference
UPI. Voice of Survival From Phonograph. Appeared in the Valley Independent. November 27, 1961.