Bendix Model 850 Charger (late 1950s/early 1960s)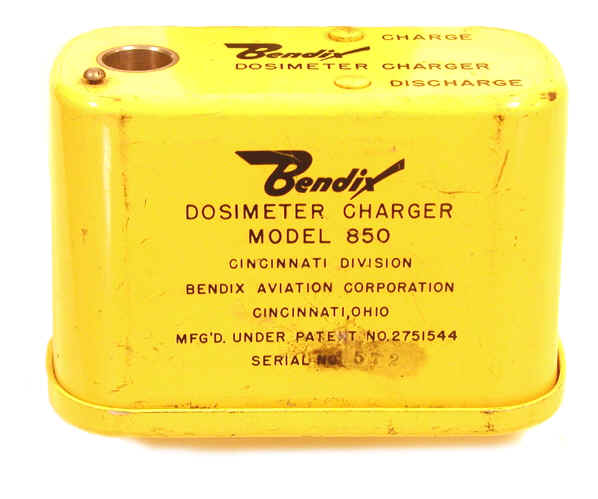 This is a Model 850 dosimeter charger manufactured by the Bendix Aviation Corporation of Cincinnati, Ohio. Since the patent (No. 2,751,544) was issued June 19, 1956, the charger was probably manufactured in the late 1950s or possibly the early 1960s. The serial number, difficult to make out in the photo, is 572. The Model 850 has at least one unique design feature: rather than use a dial to adjust the charge on the dosimeter, it uses two buttons, one to charge, and the other to discharge. The yellow color suggests that it was intended for civil defense purposes.
Case: 2 1/8" x 3 1/4" x 4 3/4"
Battery: One 1.5 volt D cell
Donated by Ron Kathren.
Reference
Stirnkorb, J. Dosimeter Charger, U.S. Patent No, 2,751,544, June 19, 1956.