Keleket K-425 Charger-Reader (ca. 1950)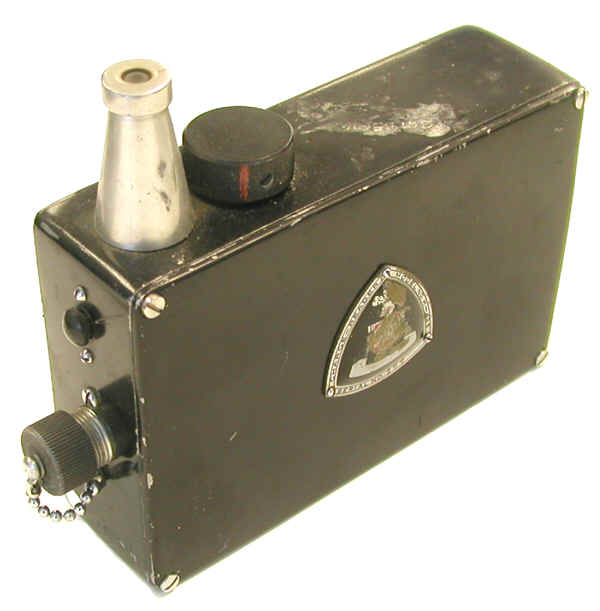 This device was manufactured by the Kelley-Koett Manufacturing Company sometime around 1950. Quoting an advertisement for the Model K-425: "The Keleket Charge-reader (electrostatic voltmeter) is used for charging the Keleket Pocket Chamber and providing a record of the amount of radiation to which the Pocket Chamber has been exposed. The simple exposure scale reads zero-one-two: one, indicating the tolerance dose [0.1 R/day]; two, twice the tolerance dose. The Keleket Charge-reader may also be used with the Victoreen and the Instrument Development Laboratory Pocket Chambers."
A brochure for the K-425 reads: "The Keleket Charge-reader, Model K-425 consists of a quartz-fiber electrometer mounted in a compact waterproof cast aluminum case. It contains voltage and light source required to charge and read the Pocket Chamber. Only one unit is required for any number of Pocket Chambers located in the same area."
Case: 6 1/8" x 1 7/8" x 4 3/4" black enameled aluminum
Weight: 2 lbs. 11 oz.
Light: 2.2 volt flashlight bulb
Battery: One 1.5 volt D cell and four 45 volt
High voltage: 130-180 volts
Dosimeters: Keleket K-700 pocket chamber and K-300 slow neutron pocket chamber
Price: $145 in 1950
References
Keleket Bulletin Q-3 for Keleket Pocket Chamber and Charge Reader, no date.
Keleket Price List for February 1, 1950.
Keleket advertisement, no date.
Atomic Energy Commission Radiation Instrument Catalog #2, Part 1, 195, Page AE-1B.