Keleket K-430 Charger-Reader (early 1950s)
This device was manufactured by the Kelley-Koett Manufacturing Company sometime in the early 1950s. Quoting a 1954 advertisement for the Model K-430A: "This easy to operate waterproof voltage and light source with Keleket Pocket Chambers gives adequate protection against radiation exposure dangers. Any number of Pocket Chambers can be charged and read on it. Range 0 to 200 mr. Size: 6 1/8" x 1 7/8" x 4 3/4. Also can be used to charge Keleket [direct reading] dosimeters."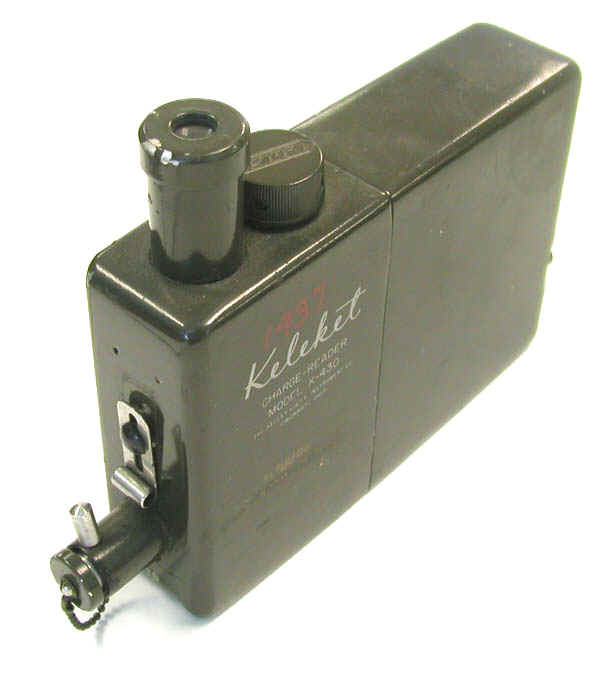 My guess is that the Model K-430 was a replacement for the Model K-425 since its specifications, as indicated in the 1952 AEC Instrument Catalog #3, are almost identical to the specifications of the K-425 as described in AEC Catalog #2. The most obvious difference between the two is that the end of the K-430 is removed to access the battery compartment whereas the side of the Model K-425 is removed to do so.
Case: 7" x 1 7/8" x 4 3/4" olive green enameled aluminum
Weight: 2 lbs. 11 oz.
Light: 2.2 volt flashlight bulb
Battery: One 1.5 volt D cell and two?
High voltage: 130-180 volts
Dosimeters: Keleket K-700 pocket chamber and K-300 slow neutron pocket chamber
References
Advertisement, Nucleonics February 1954, p. 86.
Atomic Energy Commission Radiation Instrument Catalog #3, 1952, p.AE-11A.