Gardray Film Badge (ca. early 1950s)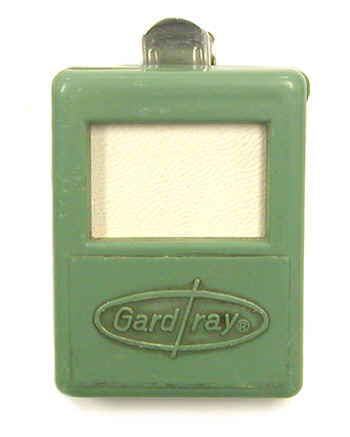 Unfortunately I have no information about this badge other than what can be determined from inspecting it. It is 1.5" x 2" in size, and has a single film packet inside. The latter, a DuPont 544 film packet, contains a type 555 film and a type 834 film. Type 834 film is used for fairly high end exposures, 90 to 700R, while the type 555 film is used for lower, but still significant, exposures, 2 to 35 R.
The badge has one unusual feature—there does not appear to be any provision for filters.
The back of the badge states that it was produced by Gardray of Burlington Massachusetts and that "If found, drop in mailbox, postage guaranteed." I have been unable to find any references to the Gardray company and it is not mentioned in a listing of commercial film badge services that appeared in a 1955 issue of Nucleonics.
At one time, both the Picker X-ray Company and Landauer Inc. marketed a film badge under the name "Gardray" but what the connection is, if any, between these companies and the Gardray company is not known.
Although I have assigned it a tentative date of the early 1950s, its styling suggests that it might even date from the late 1940s.
Donated by Ron Kathren.