Hanford Film Badge (ca. 1960s)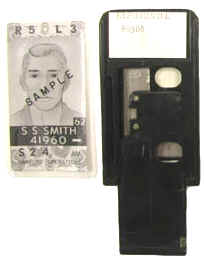 These experimental versions of Hanford film badges date from the 1960s. Sometime in the 1970s, Hanford switched over to TLDs. 
There is a small spring loaded lock in the upper left corner of the badge. To access the film packet, the lock is opened using a magnet (or a quick tap and pull). The front panel of the badge is slid out the bottom.
The first photo shows the badge with the ID card removed and the front panel partially extended out of the bottom of the badge. The film packet is missing.
The second photo shows on opened white badge (minus the film packet). The front panel (right side of photo) has been flipped over.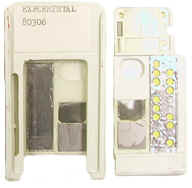 There are two RPL glass "fluorods" for accident dosimetry in the top left corner of the front panel. The lower of the two is bare and the upper one is shielded. The top also has three empty cavities in which metal activation foils could be placed for criticality dosimetry. As indicated in the accompanying drawing, these would be copper, indium, and a cadmium indium sandwich. The bottom of the front panel has a channel, plugged at the open end, in which a sulfur rod for criticality dosimetry could be placed.  
Both the front and back portions of the badge have an iron and tantalum filter to help determine the effective energy of the photons. The film response is energy independent under the tantalum filter for photon energies above 60 keV. Finally, the front portion has a perforated lead tape that is used for identification purposes.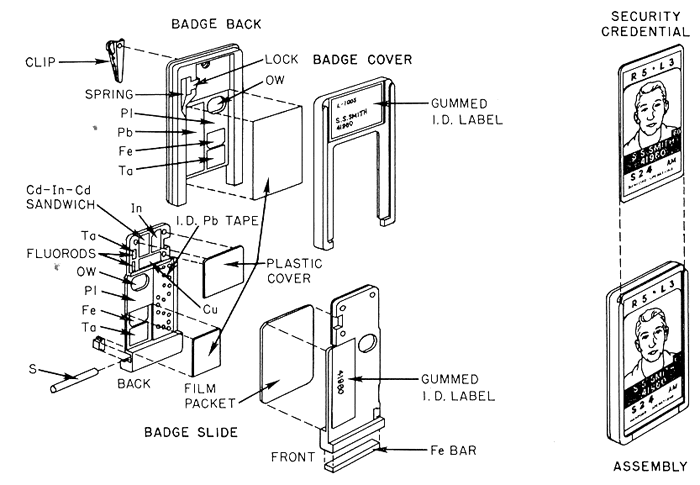 Donated by Ron Kathren.
References
Ron Kathren, personal communication.
J. Fitzgerald. Applied Radiation Protection and Control. Gordon and Breach, p. 282, 1969.