Metal Film Badges (late 1940s)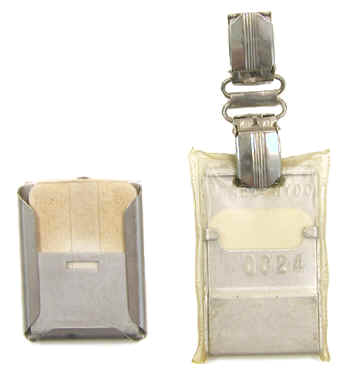 Unfortunately I have no background information concerning these two film badges.
The badge on the left has no markings whatsoever. It contains a single packet of DuPont film the bottom half of which is sandwiched in a cadmium filter to correct for the film's over-response to low energy photons. The back of the badge, not shown, has a simple alligator clip.
The badge on the right is made of steel and heat sealed in a plastic pouch. It too contains a single film packet. The bottom portion of the holder is thicker than the upper portion, probably to house a cadmium filter. Stamped across the top of the badge are the letters: "USAEC NYDO." In the middle of the badge is the number "0024." USAEC NYDO stands for United States Atomic Energy Commission, New York Directed Operations. The latter was subsequently known as the New York Operations Office—it was one of five regional AEC offices.