Keleket K-300A Indirect Reading Pocket Chamber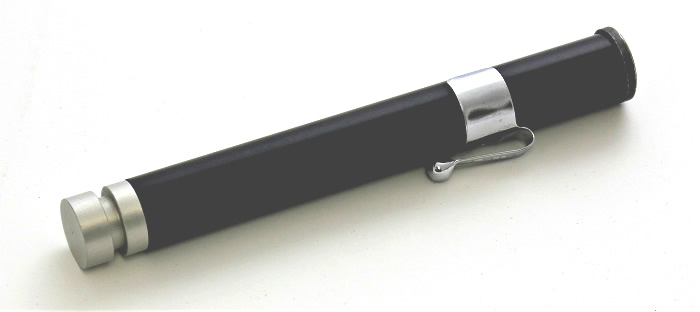 The above photo shows a Model K-300A indirect-reading pocket chamber that was manufactured by the Kelley-Koett Manufacturing Company of Covington Kentucky. While I have no information to indicate a probable date of manufacture, the earlier version of this dosimeter, the K-300, was in production as late as 1954.
An ad in the September 1954 issue of Nucleonics indicates the function of the K-300 as follows:
"Measures exposure to slow or thermal neutrons. Use for monitoring areas or source carrying containers in transit. Also to plot isodose line."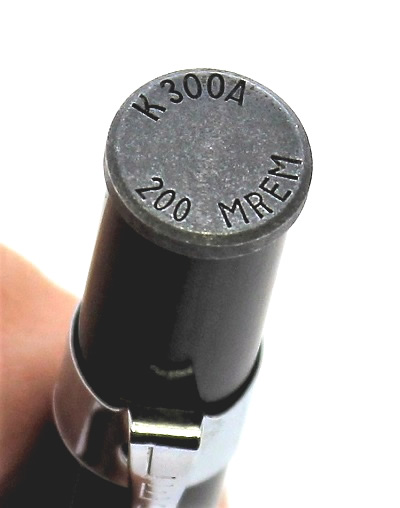 The 1952 AEC Instrument Catalog provides the following description of the K-300:
"Boron lined ionization chamber with high capacity polystyrene insulated collecting electrode for personnel monitoring for thermal neutron exposure."
The catalog also notes that the dosimeter requires the use of Keleket's Model K-430 charger-reader.
Size: 4.5" long and 0.5" in diameter
Weight: 0.5 oz.
Donated by Kurt Engelmann.
References
Atomic Energy Commission. Radiation Instrument Catalog Catalog 1952 page PIC-5B, page date July 1, 1952.
September 1954 p96.