Landsverk Model L-50 Finger Chamber (ca. 1950-1955)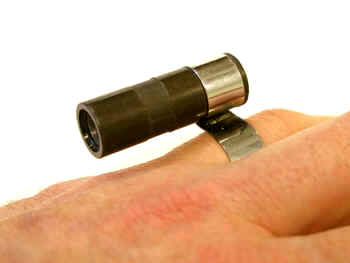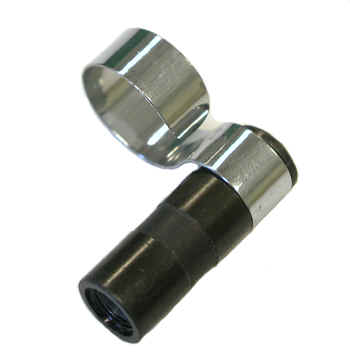 Manufactured by the Landsverk Electrometer Company of Cincinnati, Ohio.
This indirect reading dosimeter was designed to measure the hand exposures (in the 0-2 R range) of workers handling gamma ray or X-ray sources. If desired, it could be attached to a clip or chain rather than a ring. For some odd reason (most likely it was a mistake), Landsverk also used the Model L-50 designation for a direct reading pocket dosimeter.
Size: 1 9/16" x 0.5"
Weight: 0.2 oz.
Response: Independent of energy from 75 keV to 1.5 MeV
Charger/reader: Landsverk Model L-60
References
Nucleonics, February 1951 p. 92.
Atomic Energy Commission Radiation Instrument Catalog No. 2, Part 2, Page PIC-18A, page date June 1950.