Poster Issued by the New York Department of Health (ca. 1981-1983)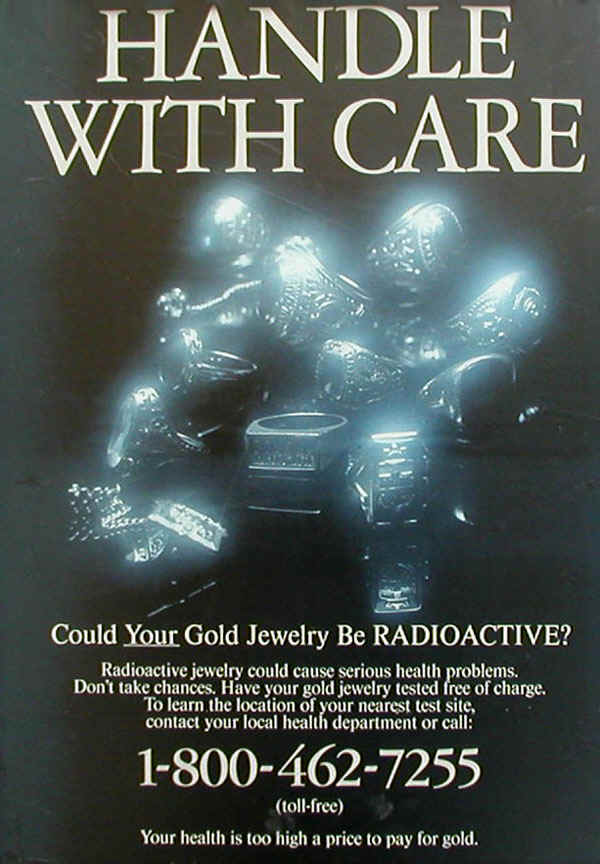 At some time during the 1930s and 1940s, gold brachytherapy seeds that previously contained radon-222 were melted down by an unknown individual or individuals. Presumably this occurred somewhere in upstate New York. The gold, contaminated with the long-lived decay products of radon (Pb-210, Bi-210 and Po-210), was then mixed with uncontaminated gold and used to manufacture jewelry. Over the years, the wearing of this jewelry, the rings in particular, resulted in mild to severe skin damage. In the 1960s, dermatologists recognized that the damage seemed to be related to the jewelry and had the latter analyzed by health officials who determined that the jewelry was indeed radioactive. Although the issue was addressed in the Journal of the American Medical Association in 1967 (JAMA 205(8):595-596), it seems that the matter of radioactive gold jewelry wasn't taken seriously until the 1980s
Quoting an article from the August 30, 1981 issue of the Syracuse Herald-American:
"The state Health Department will man a special booth at the State Fair to screen gold jewelry for possible radiation contamination. Several months ago, health officials said they had discovered a number of contaminated pieces of gold jewelry, which may have caused skin irritations to their owners. Since the start of the year, health officials have spotted about 150 pieces of radioactive jewelry, nearly half of which were class rings or pins from the Buffalo area, dating back to the 1930s and 1940s. Some of the wearers of radioactive jewelry eventually had fingers amputated because of cancer. Health officials theorized that radon gold seeds—previously used in cancer therapy—were obtained illegally and used in the manufacture of the jewelry. Dave Axelrod, the state's health commissioner, said while authorities had not discovered many such pieces recently, he still believed it was necessary to check for radioactive pieces of jewelry in circulation."
New York State's campaign to identify the radioactive gold jewelry was initiated in February 1981. Some 160,000 pieces of jewelry were evaluated and of these, 177 were found to be radioactive. Of the 127 individuals who had worn the radioactive jewelry, nine had developed skin cancer and 41 others had developed some other type of skin disease.
Although the problem was primarily limited to upstate New York, radioactive gold jewelry was also found in northwestern Pennsylvania. In fact, the worst case seems to have involved a man from Bradford, Pennsylvania—he died after the cancer had spread throughout his body.
The state's concern in 1981 might have been stimulated by a $1.2 million dollar lawsuit initiated by Elizabeth Riley of Salamanca, New York. The radiation damage from her 1947 engagement ring had been sufficient to require the amputation of a finger. Her lawsuit claimed that New York State was responsible because the gold seeds had come from the state-run Roswell Park Memorial Institute. Ultimately, the lawsuit was dismissed because the statute of limitations had run out.