Marie Curie Medallion (1967)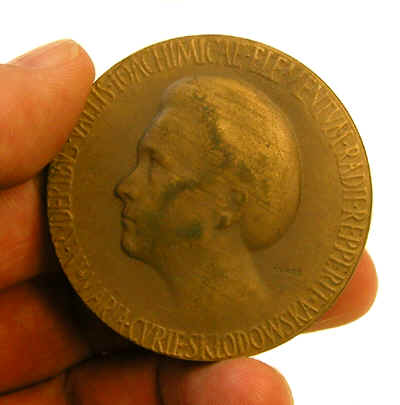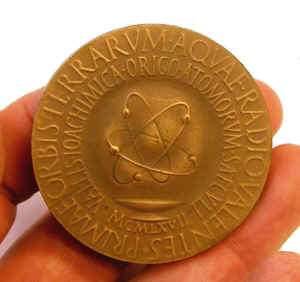 This brass medallion, dated 1967, recognizes the one hundredth anniversary of the birth of Marie Curie.  
The face of the medal (above left) reads, in Latin:
MARIE·CVRIE·SKLODOWSKA·IN·RVDERIBVS·VALLIS·IOACHIMICAE·ELEMENTVM·RADII·REPPERIT 
What is probably the artist's name is located to the lower right of Curie's profile. It appears to read "KUNES."
The outer text on the back of the medallion (above right) reads:
PRIMAE·ORBIS·TERRARVM·AQVAE·RADIO·VALENTES·
The inner text on the back of the medallion reads:
VALLIS·IOACHIMICA·ORIGO·ATOMORVM·SAECVLI
The dish on the back of the medallion with the atomic symbol above it would represent the crucible in which Marie Curie purified radium.