Silver Manhattan Project Pin (1945-1950)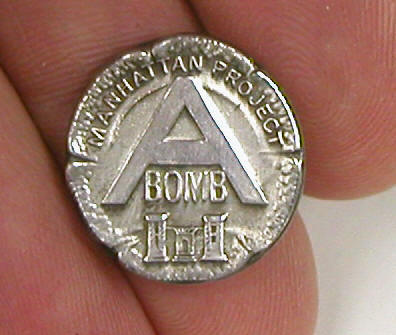 This is the silver version of the Manhattan Project Pin—the version presented to individuals who worked with the Manhattan Engineer District for more than one year. A bronze pin was awarded to those with less than one year's service.
This particular pin was given to Carl J. Irwin for his work with Stone and Webster at the Clinton Laboratories (Oak Ridge National Laboratory) during the war.
Size: 0.7" in diameter
Manhattan Project was the common name for what was officially known as the Manhattan Engineer District (MED), the WWII activities related to the development of the atomic bomb. The "A," of course, stands for "atomic." The castle shown on the bottom is the symbol for the Army Corps of Engineers. For this reason, the project's administrative headquarters building in Oak Ridge was known as the castle.
Kindly donated by Nancy and Jack Beck.