Model of ORINS Thyroid Counter (1955)
This wood and masonite model was built in 1955 for Marshall Brucer, the then head of the Medical Division at the Oak Ridge Institute for Nuclear Studies (ORINS). It was one of several such models showing the various types of equipment in use at ORINS. These models were used in traveling exhibits and lectures as a way to convey a three-dimensional idea as to what the equipment was like.
This particular model shows an instrument for measuring the activity of iodine in the thyroids of patients who had been administered diagnostic levels of iodine-131. Unfortunately, I have not located any references in the literature to this instrument although I did locate a photograph.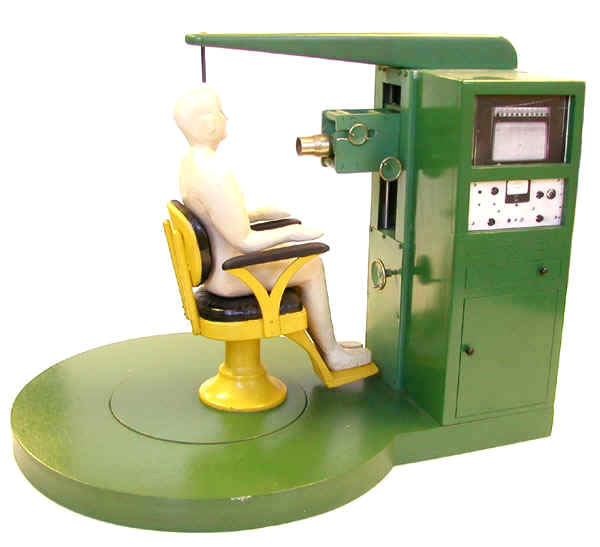 This type of instrument is pretty straightforward in its design and operation. It includes a chair for the patient to sit. A pad is positioned on top of the patient's head to help keep the latter still (the pad in the model has broken off). The detector is almost certainly a collimated NaI scintillator. The detector output is registered by a ratemeter coupled to a strip chart recorder. This would allow the physician to monitor any changes over time in the levels of iodine in the thyroid.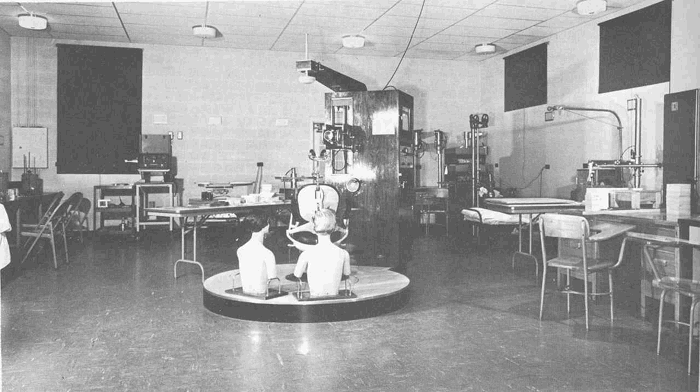 The above figure shows the instrumentation room at the Medical Division of the Oak Ridge Institute of Nuclear Studies where the various types of thyroid uptake equipment were installed (ca. 1956). The unit that the model is based on is located in the center-right of the photo. The chair where the patient would sit is located just behind the head of the blond torso phantom.
Size: 16" long, 12" wide, 12" high.
The builders of the model, Dewey Ferguson and Harry Kimble, added their signatures and the date (1955) on the back of the model.
Donated by Harold Hodges.
Reference
Elizabeth B. Anderson. Ten Years With the Peaceful Atom. September 1946 to September 1956. Oak Ridge Institute of Nuclear Studies in-house publication. Adapted from a presentation to the Parent Teachers Association, Park Ridge, New Jersey, October 9, 1956.