Model of ORINS "Triple Head" (1955)
This wood and metal model was built in 1955 for Marshall Brucer, the then head of the Medical Division at the Oak Ridge Institute for Nuclear Studies (ORINS). It was one of several such models showing the various types of equipment in use at ORINS. These models were used in traveling exhibits and lectures as a way to convey a three-dimensional idea as to what the equipment was like.
This particular model shows an instrument that employed three NaI detectors to evaluate the uptake and elimination of a radiopharmaceutical in three different organs simultaneously, usually the thyroid, liver and bladder. The output from each detector was recorded on a strip chart recorder. It demonstrated that the elimination of a radionuclide rarely followed a simple exponential decrease. Despite this, it was common for health physicists to refer to the "biological half lives" of a radionuclide in the various organs of the body. Since Marshall Brucer liked to refer to health physics as "hell," the device came to be known as "Cerberus," the three-headed dog in Greek mythology that guarded the gate to hell.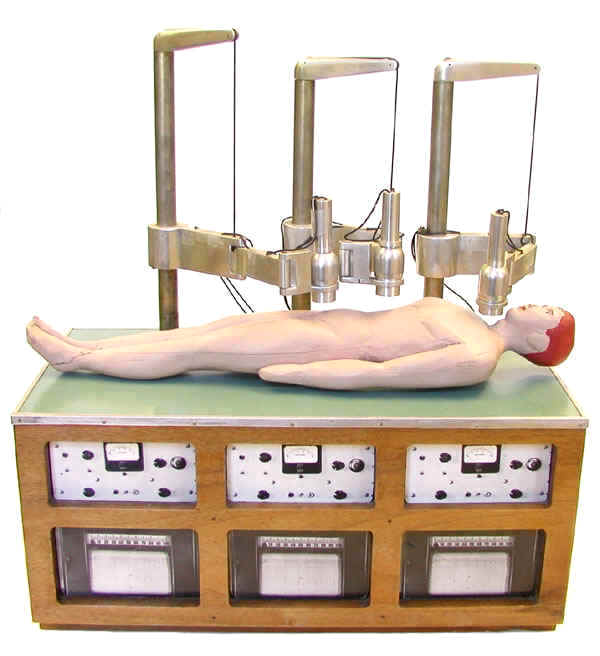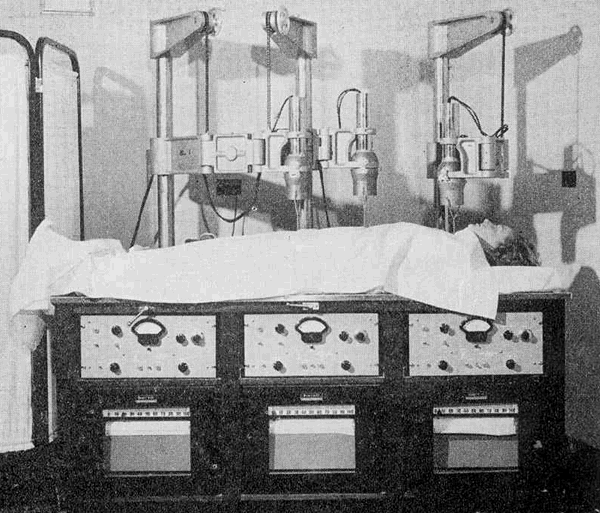 The description of the above photograph reads: "The combination of both the spectral control of a total-body counter and a time factor resulted in the development of a device which emphasizes not only the spectral scanning but temporal scanning in addition."
The builders of the model, Dewey Ferguson and Harry Kimble, added their signatures and the date (1955) to the left end of the model.
Size: 12" long, 6" wide, 13" high.
Donated by Harold Hodges.
References
Marshall Brucer. Medical Instrumentation in Radiation Biology and Medicine. edited by W.D. Claus. Addison-Wesley Publishing Company. Reading, Mass. 1958.
Marshall Brucer. Personal communication.