Mallinckrodt Radiological Tables and Circular Slide Rule (late 1960s, 1970s)
The Radiological Tables and Circular Slide Rule was designed and distributed by Mallinckrodt Pharmaceuticals. The most prominent word on the slide rule is "Conray," a registered trademark that Mallinckrodt employed for their iothalamate pharmaceuticals.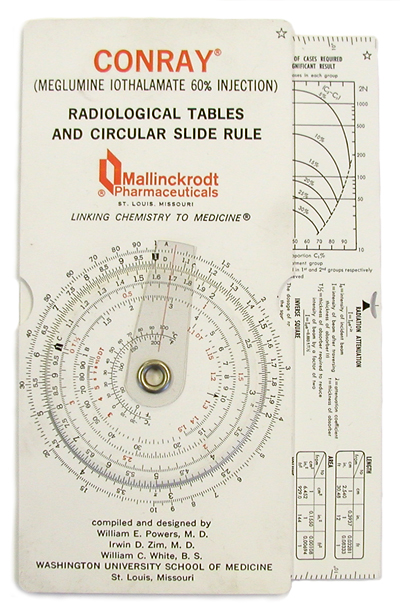 Quoting the Introduction in the instruction booklet: "These radiological tables and circular slide rule were compiled and designed to provide a compact calculator and reference source to aid the radiologist or radiation therapist in his daily duties. The tables and diagrams provide a handy reference to many frequently used conversion factors, physical data, and clinically useful measurements."
As can be seen in the photo to the right, the circular slide rule is on the front. The back of the device has graphs and diagrams as well as tables regarding normal skull size development and epiphyseal centers. One side of  the insert, shown partially removed in the photo, has information about various radionuclides (e.g., half-lives, radiation type and energy and half value layers). The other side of the insert has conversion factors, constants, and information about brachytherapy sources and teletherapy units. 
The circular slide rule incorporates the usual functions of an ordinary slide rule, plus a few additional ones: it permits the user to estimate the decay of a radionuclide with a known half-life, the attenuation of radiation by shielding of specified thickness (in HVLs), and the rate of increase in a tumor.
For some history about the slide rules that have been used in radiology, consult J.E. Burns, 'Radiographic exposure slide rules', The British Journal of Radiology, 72 (1999), 48-54.
Size: 3" x 6.25"
Reference
Instruction Booklet for Radiological Tables and Circular Slide Rule. Mallinckrodt Pharmaceuticals. 1966.