Snow Obstetrical Calculator (ca. 1950s)
This slide rule, used to measure pelvic inlet diameters, was developed by Dr. William Snow who served as the chief radiologist at New York's Harlem Hospital, the Bronx Hospital, and the VA Hospital in Shreveport, LA. It was manufactured and distributed by the Picker X-ray Company.


During a pregnancy, the diameter of the pelvic opening and the dimensions of the fetal skull were of concern to the obstetrician. If these dimensions were to be measured from an X-ray image, some method needed to be used to account for the fact that the size of the X-ray image depended on the distance of the X-rayed object to the film—the greater the distance, the greater the image size on the X-ray. This calculator provided one method to do so. If, for example, the film to pelvic distance were 17 cm, the inner tube of the calculator would be rotated until 17 showed up in the window (see top photo) along with its corresponding scale. The actual diameter could then be read off the scale when the calipers spanned the object of interest in the X-ray. In the top photo, this would be a little under 8 cm.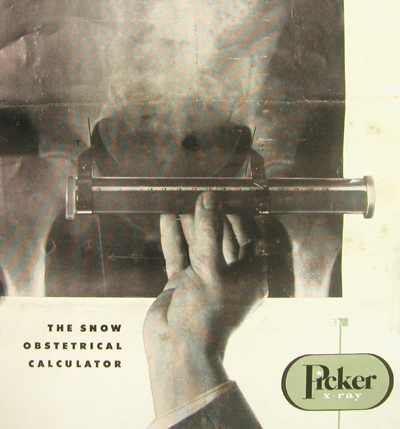 Size: ca. 10" long x 1.25" diameter
Reference
Picker X-ray. Instruction booklet for the Snow Obstetrical Calculator. Bulletin 1251-R. 1951.