Type BLUNK I-3 Radiation Detector (early 1960s)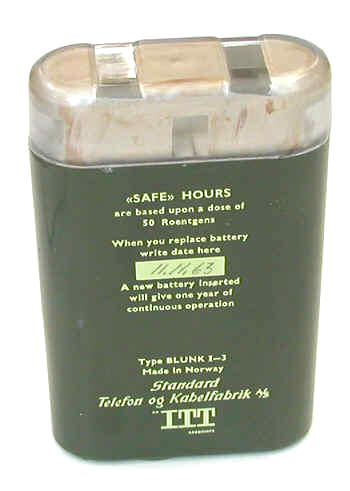 This unique device was manufactured in Norway by Standard Telefon og Kabelfabrik A/S, a subsidiary of ITT. Since the battery on this was changed in 1963 (the date is written in pencil on the case), I assume that the detector was probably manufactured in the early 1960s.
The BLUNK I-3 is actually a self-recharging electroscope designed for civil defense purposes.
Quoting the instructions: 
"WHAT THE DETECTOR CAN TELL YOU: 
Whether you are in a radiation field, and what the radiation intensity is. Using the detector you can search for the place in your area having the lowest radiation intensity.
The time period in which persons may safely stay in a radiation field."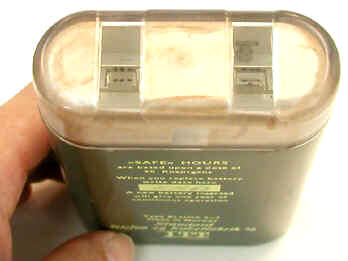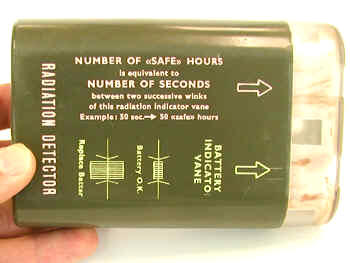 Two counterbalanced vanes (electroscope leaves), are visible when the unit is viewed from the top (photo above left). One vane indicates the condition of the battery. The other indicates the number of "Safe Hours." The latter is the time required to receive an exposure of 50 R. According to the instructions on the side of the case, the "number of safe hours is equivalent to [the] number of seconds between two successive winks." 
The device operates as follows. When the indicating vane is uncharged, it comes to rest in a vertical position. This brings it into contact with a charged plate. This charges the vane causing it to be repelled by the plate. As the device is exposed to radiation, the ionization of the air in the vicinity of the vane reduces the latter's charge. When the vane is completely discharged, it comes to rest in a vertical position which brings it into contact with the charged plate. The cycle then repeats itself. 
Viewed from above, the repetitive movement of the vane looks like a blinking eye. Hence the name: the BLUNK I-3.
Case: ca. 3 1/4" x 5" x 1 1/4"
Reference
Instruction pamphlet. No date.