F&H Personnel Monitor (ca. early 1960s)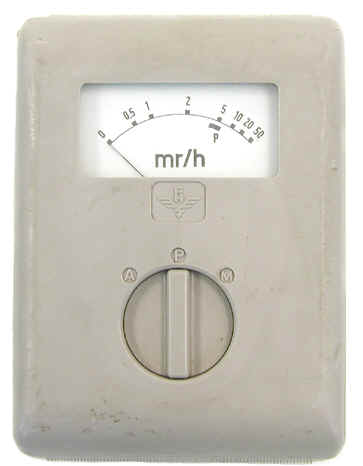 This particular instrument was manufactured by Frieseke and Hoepfner of Germany. A paper label on the back of the case indicates that it was distributed by Kahlsico (Kahl Scientific Instrument Company) of El Cajon, California. This instrument was also distributed by George T. Meillon Inc., of New York whose advertisements describe it as a "Pocket Geiger Counter."
There is a single control: a three-position switch. My guess is that A stands for "Aus" which means "off," P means "battery check," and M indicates "measure.
A cover on the top of the case, which serves as a beta shield, slides open to reveal a side window GM tube. That the scale is logarithmic indicates that the instrument operates in the current mode. The battery compartment is accessed by sliding open a cover on the bottom of the case.
The F&H logo is rather cute: a pair of eagle wings underneath the letters F and H with a lightning bolt at the bottom.
Case: 3" x 4" x 1 1/8" gray plastic
Weight: 7 oz.
Battery: One 1.5 volt penlight
Price: $65 in 1959
There are two tiny holes (not visible in photo) on the side of the case that are probably used with the optional earphones.
Donated by John Taschner.
Reference
Advertisement. Nucleonics November 1959, page 150.