IDL Model 1756 A Personnel Monitor (ca. 1950s)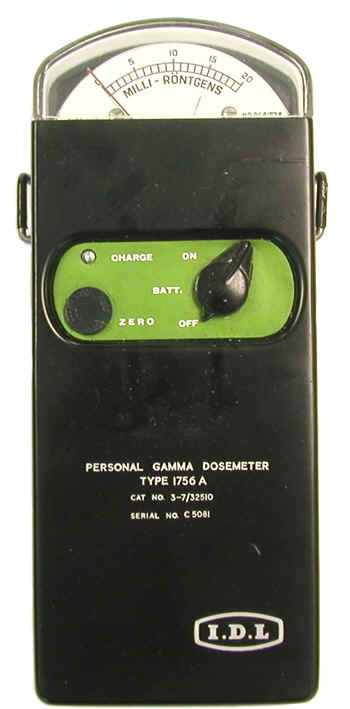 The Model 1757 A shown here was manufactured in the UK by Isotope Development Limited (IDL). The detection chamber inside the case is labeled "A.E.R.E. Cat No. 3-7/32651." The A.E.R.E. was the UK's Atomic Energy Research Establishment (Harwell).
This "Personal Gamma Dosemeter" is an integrating device (0-20mR) that was designed to be worn in a shirt pocket or at the waist. Since the display can be read from the top (see photograph below) as well as from the front, the worker could determine his/her dose by glancing down—it was not necessary to remove the dosimeter from the pocket or waist.
Unfortunately, I haven't been able to locate any references for this instrument, and do not know its exact mode of operation. It appears to employ some type of condenser chamber that is charged by an internal battery. When fully charged, the needle on the meter would be adjusted to zero via the small black dial on the front of the case. An exposure to gamma radiation would reduce the stored charge, and this decrease in charge would somehow be measured and displayed on the meter as an accumulated exposure in mR.
Case: ca. 2 1/2" x 6 1/2" x 7/8"
I would like to thank Pete Burgess for his kind assistance in identifying the manufacturer of this instrument.
Donated by Ron Kathren.