The PTW "Monitor" (late 1950s, early 1960s)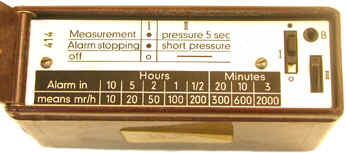 This alarming dosimeter was manufactured in the late 1950s or early 1960s by PTW of Germany. Today the company is known as PTW-Freiburg. PTW was founded in 1922 by Professor Hammer of the Physics Institute of Freiburg University to market an X-ray dosimeter. At one time, the Victoreen Instrument Company advertised itself as the "World's First Nuclear Company," but PTW might have a better claim to that title. The example shown here was distributed by George T. Meillon Inc., of New York, and used at Oak Ridge National Laboratory.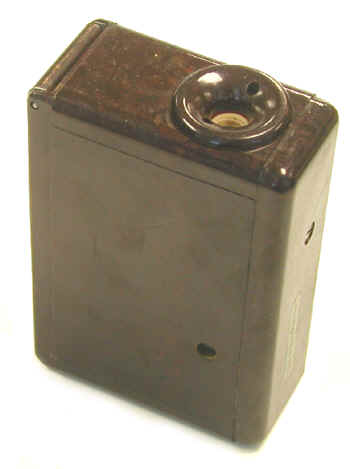 As can be seen in the photograph below, this version of the "Monitor" alarms after an exposure of 100 mR. By measuring how long it takes for the alarm to go off, the exposure rate can be determined via the table. Other versions alarmed at 20 mR, 30 mR, 50 mR etc.
Quoting a 1959 advertisement: "PTW "MONITOR" SOUND ALARM POCKET DOSIMETER for PERSONAL PROTECTION against radiation from Radium, Isotopes and X-rays. It is a LIFE SAVER precision instrument for personnel or scientists who may be subjected to high radiation overdoses."
Case: ca. 4 1/2" x 2 3/4" x 1 1/2"
Weight: 12.5 oz
Batteries: Self-contained rechargeable (battery charger was purchased separately).
References
Nucleonics, May 1957, page 117.
Nucleonics, November 1959, page 150.
Nucleonics, November 1961, page 182.