Wallac Oy RDM Personnel Monitor (early 1960s)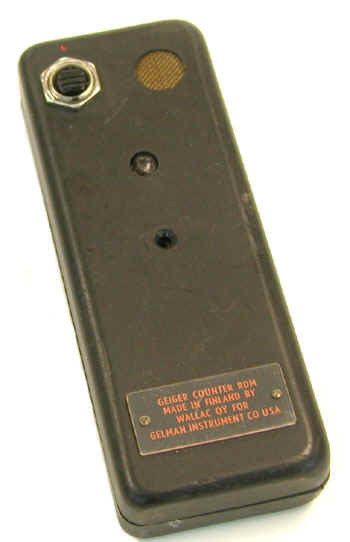 This personnel monitor was manufactured by Wallac Oy of Finland and sold in the U.S. by the Gelman Instrument Company. A 1961 Gelman advertisement refers to this particular device as a "Sparrow Radiation Alarm." The name probably derives from the "chirps" that indicate the intensity of the radiation. The detector is a miniature GM tube and the only control is an on/off switch (upper left corner). The count rate is indicated audibly through a small speaker (upper right corner) and visibly via a small flashing light (upper center). Unfortunately, the pocket clip is missing in this particular example.
The Gelman advertisement reads: "Sparrow Radiation Alarms provide a safeguard no other device can offer. Workers are instantly warned of danger... Radiation accidents are impossible to predict! Don't wait—act now about personal protection."
Case: ca. 2 x  5" x 7/8"
Weight: 5 oz.
Batteries: Two 1.5 volt mercury penlights
Donated by John Taschner.
Reference 
Advertisement, Nucleonics November 1961, page 233.