Wallac Oy RDP Personnel Monitor (early 1960s)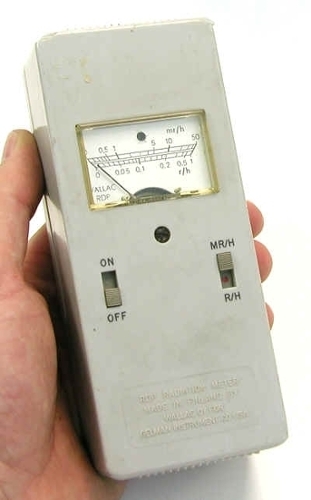 This personnel monitor was manufactured by Wallac Oy of Finland and sold in the U.S. by the Gelman Instrument Company. A 1961 Gelman advertisement describes it as a "Pocket Radiation Meter," although a later product description identifies it as "pocket survey meter."
In the above photo, the top cover has been slid open to reveal the miniature GM tube. Since the scale is logarithmic, I assume that the device operates in the current mode rather than in the pulse mode.
This particular instrument came in three models: the civil defense version (0.1-2 and 1-100 R/hr), the standard version (0.1-50 mR/hr and 0.01-1 R/hr) and the high range version (1-500 mR/hr and 0.2 - 50 R/hr). While, I am somewhat uncertain about the specified ranges, the example in the photo is clearly the standard version.
Quoting the 1961 advertisement: "Provides all the protection of large expensive Geiger counters. Gives instant accurate readings of radiation concentration with the mere flick of a switch... Ideal for home fallout shelters... Also ideal for use by survey teams, military personnel, disaster crews, and for emergency surveys around nuclear reactors."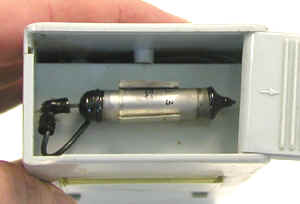 Case: ca. 2 1/2" x 5 1/2" x 1 3/8"
Weight: 8.5 oz.
Donated by John Taschner.
References
Nucleonics November 1961. Page 233.
Product description. Nucleonics. December 1961. Page 86.