PP-630(A)/PD Dosimeter Charger (ca. 1954-1961)
The PP-630 (A)/PD Dosimeter Charger is the military equivalent of the Keleket Model 430A charger-reader which was advertised as early as 1954. Since this PP-630(A) has "August 29 1961" stamped on it, I assume that it probably dates from 1954 to 1961. Unfortunately, I have not been able to locate any specific references to the PP-630A/PD.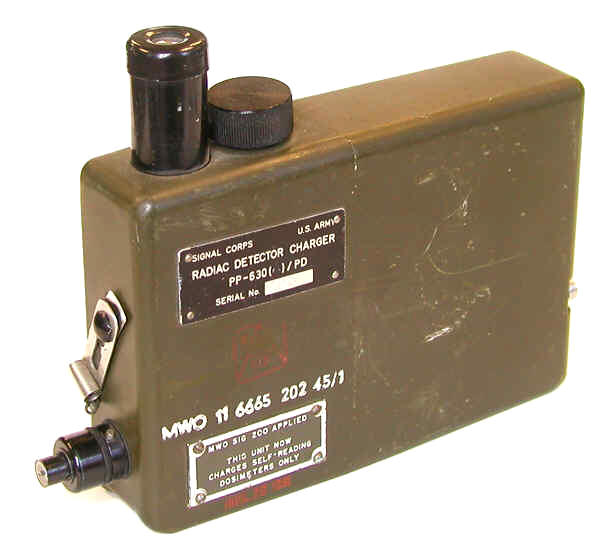 The following is the description that Keleket provided for the Model 430A: "This easy to operate waterproof voltage and light source with Keleket Pocket Chambers gives adequate protection against radiation exposure dangers. Any number of Pocket Chambers can be charged and read on it. Range 0 to 200 mr. Size: 6 1/8" x 1 7/8" x 4 3/4. Also can be used to charge Keleket [direct reading] dosimeters."
The RADIAC unit shown here has a plate on the side of the case that reads "Signal Corps U.S. Army Radiac Detector Charger PP-630(A)/PD Serial Number 293." Another plate reads "MWO SIG 200 Applied. This unit now charges self-reading dosimeters only."
Size: 7" x 1 7/8" x 4 3/4" olive green enameled aluminum
Weight: 2 lbs. 11 oz.
Battery: One 1.5 volt D cell and two ?
High voltage: 130-180 volts
Reference
Advertisement for Keleket 430A. Nucleonics February 1954 p. 86