Signal Corps Film Badge (ca. 1950s, 1960s)
This is an example of the film badge that was used by the United States Army from the 1950s through the early 1980s when it was replaced with the Panasonic TLD dosimeter. On the back (not shown) it reads: U.S. Army Signal Corps. As seen in the following photographs, the symbol for the Corps is on the front of the badge. "Lexington Film Badge Service" indicates that the film was processed by the Lexington Bluegrass Army Depot. I believe that the Sacramento Army Depot also had the capability of processing these badges. "Lexington," of course, refers to Lexington, Kentucky. Horse breeding country.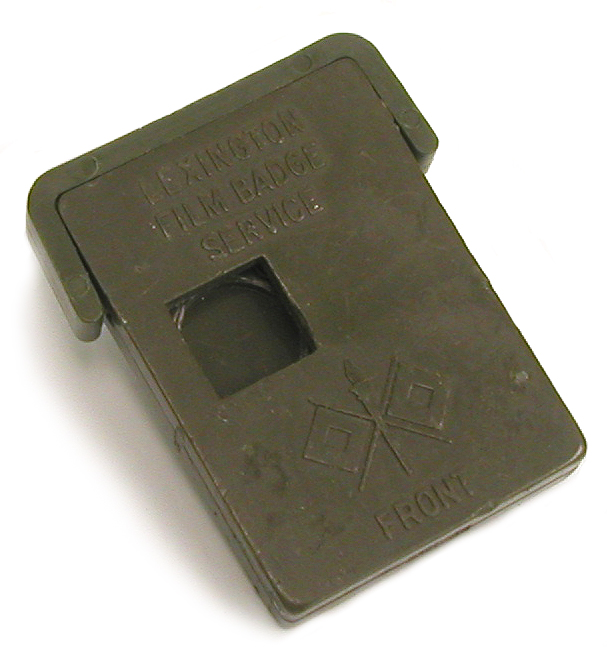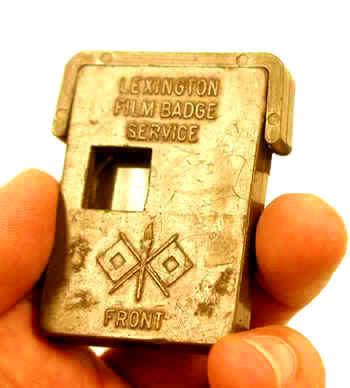 The top is hinged so that the badge can be flipped open to remove or insert film. It used two sheets of dental X-ray film in conjunction with lead, plastic and cadmium absorbers. As seen in the photos, there was also a beta window.
Reference
Personal communication. John Sykes.