Model AN/PDR-39A Survey Meter (ca. 1955)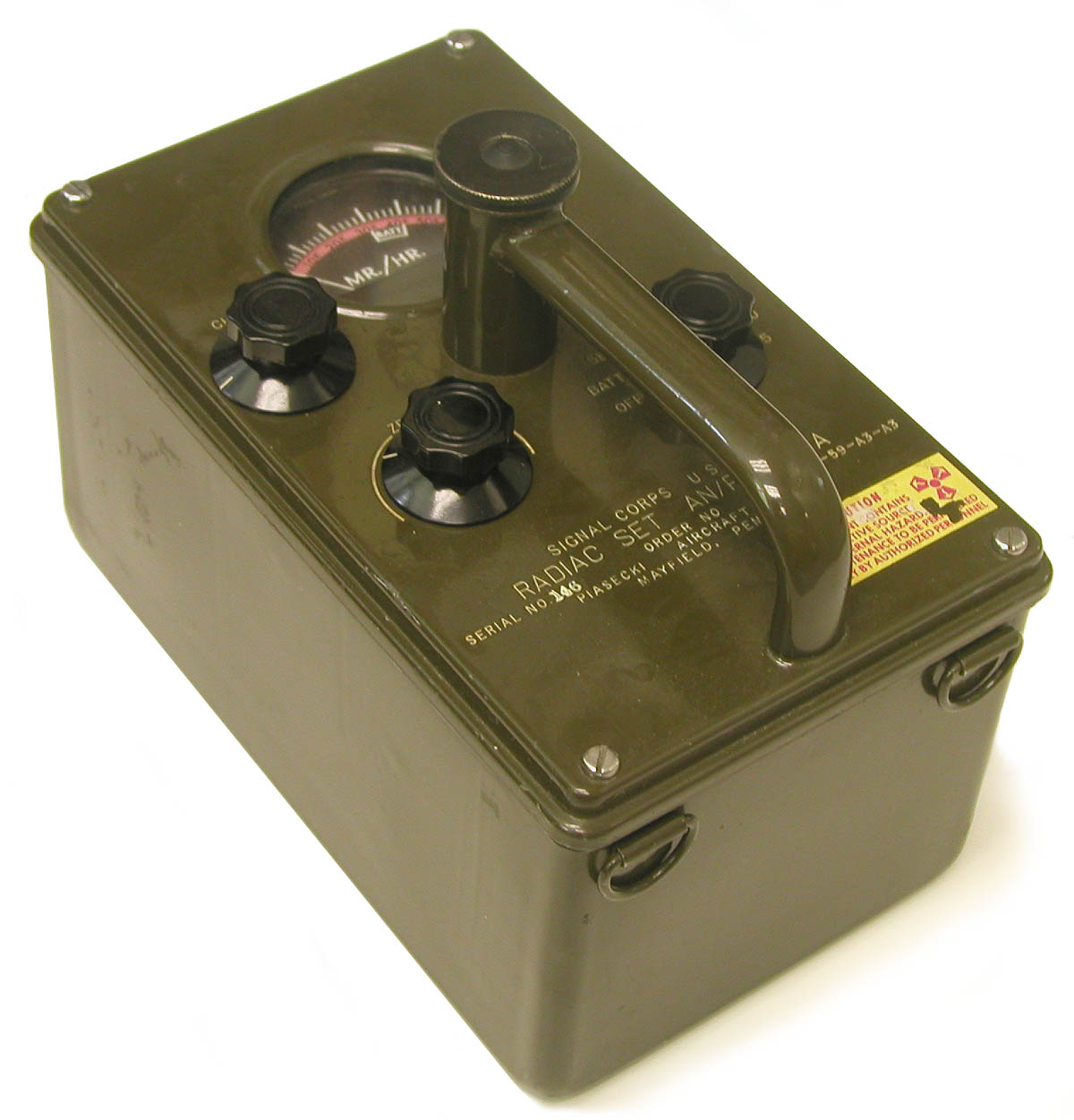 The complete description of the AN/PDR-39 in the Directory of Radiac Equipment (NAVSHIPS 94200.5) is as follows: "The AN/PDR-39 is the production counterpart of the AN/PDR-T1B." Not much info there, that's for sure. The AN/PDR-T1B, however, was described as an "ionization chamber instrument used to detect the presence of gamma-emitting radioactive materials and to train operators in the use and maintenance of this type of equipment."  
As best as I can determine, the key difference seems to be that the AN/PDR-T1B was viewed as both an operational and a training instrument, while the AN/PDR-39 was strictly an operational instrument. Physically, the most obvious difference between the two is the position of the knob used to activate the check source. With the AN/PDR-T1, the knob is on the right side of the handle. The AN/PDR-39A has the knob on the left.
The ionization chamber, located inside the case, was box-shaped and had polystyrene walls that were made conductive with an aquadag coating on the inside. The walls served as the anode while a central wire bent into a rectangular shape served as the cathode. The chamber was air-filled and 54 cubic inches in volume.
The most distinctive feature of the AN/PDR-39A is its method for changing scales. The switch for changing the scales was connected (by a chain much like that used on a bicycle) to a wheel underneath the meter face on which the different scale ranges were indicated. Each range was indicated in a unique color. When the range switch was turned, the wheel to which it was connected also turned. This caused the range seen on the meter face to change. 
There are five selectable scales: 0-5 (green), 0-50 (white), 0-500 (yellow), 0-5,000 (orange), and 0-50,000 mR/h (magenta).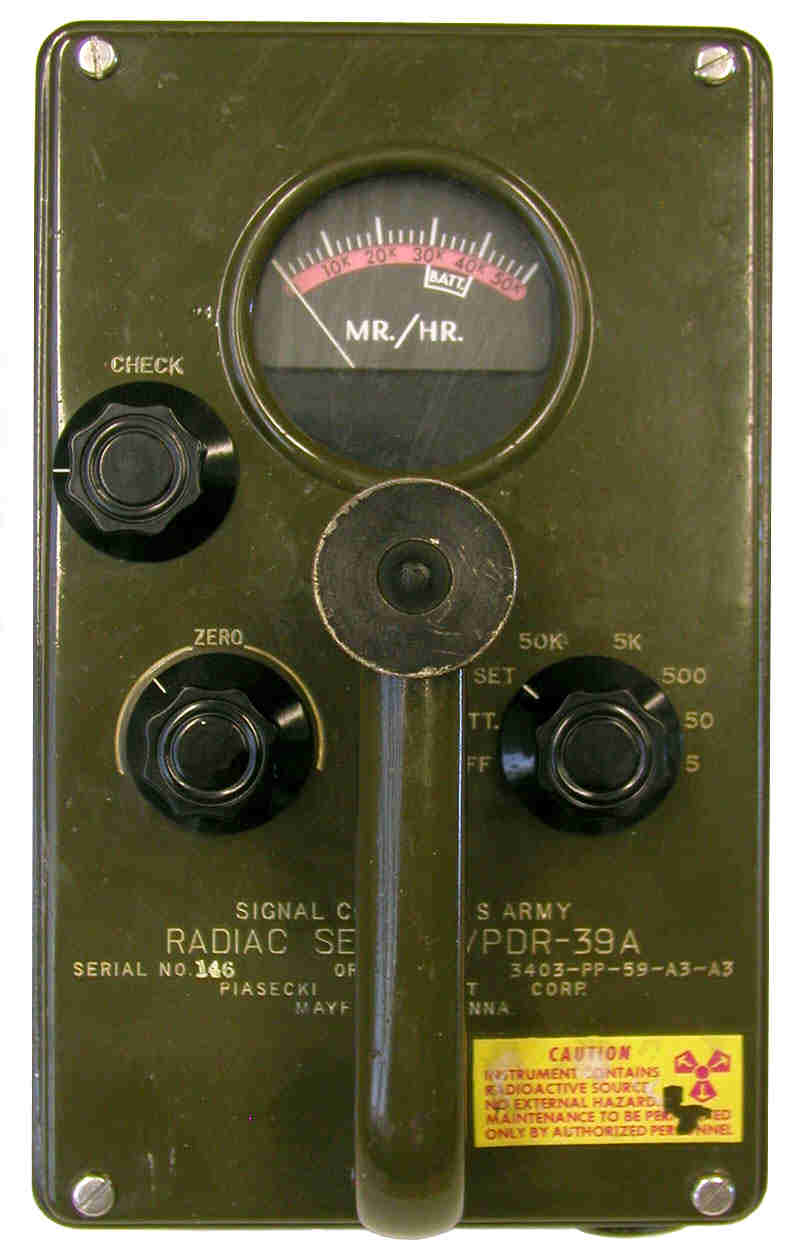 The meter face could be illuminated by a light that was activated by the circular black button on the tip of the handle.
Note the radioactive materials sticker in the lower right-side corner. It refers to the beta emitting check source, probably Sr-90, that the instrument used to have before it was removed.
Range: 0-5.0, 0-50, 0-500, 0-5,000, and 0-50,000 mR/h
Size: ca. 6" x 10.5" x  5" high (excluding handle)
Weight: 11 pounds
Batteries: One 1.3 volt, one 1.5 volt, and one 72.7 volt
Manufacturers: According to the Defense Atomic Support Agency, List of Military and Civil Defense Radiac Devices, the Model AN/PDR-39 was made by Tracerlab and the Model AN/PDR-39A was built by El-Tronics. Nevertheless, this AN/PDR-39A indicates that the manufacturer was the Piasecki Aircraft Corporation of Mayfield, Pennsylvania.
References
Campbell, D.C., Radiological Defense, Vol. IV Armed Forces Special Weapons Project, Foreward dated January 1950.
Directory of Radiac Equipment NAVSHIPS 94200.5, no date, ca. 1961-62.
Defense Atomic Support Agency, List of Military and Civil Defense Radiac Devices. DASA 1243 revised, 1966.