Radium Water Jars from Claremore, Oklahoma (ca. 1920s)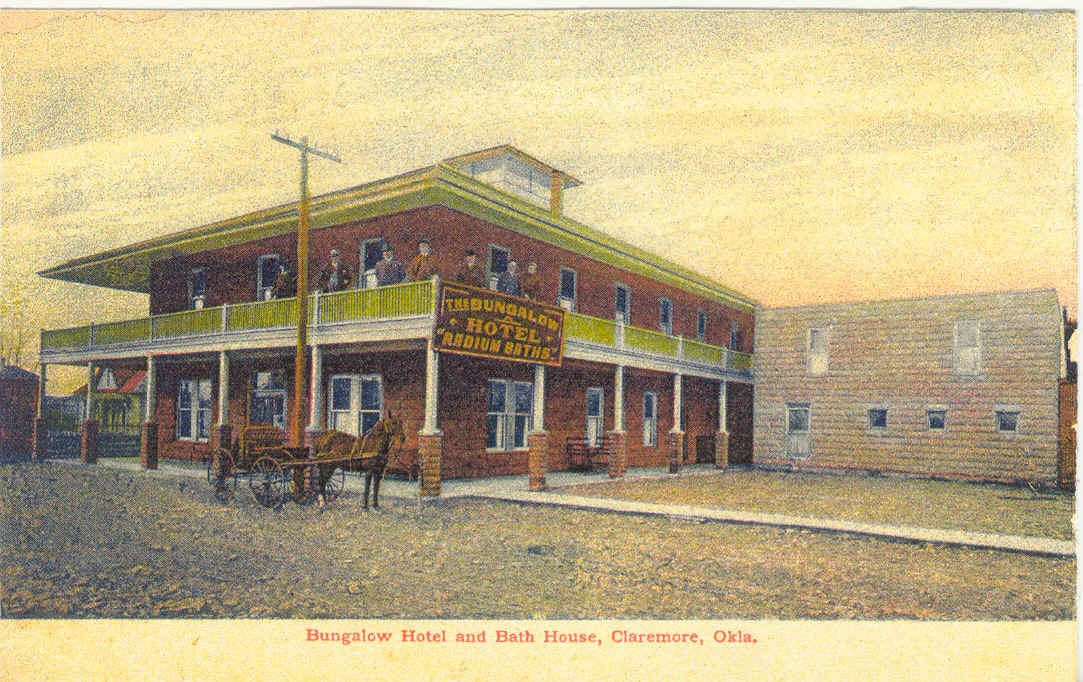 Bungalow Hotel
The Bungalow Hotel and Bath House was a two story building located at 119 S. Cherokee Street in Claremore, Oklahoma. 
The Bungalow Hotel jar pictured to the right is relatively small and made entirely of ceramic. It was an advertising gimmick that was probably sold in the hotel gift shop.
Size: ca. 4.5" high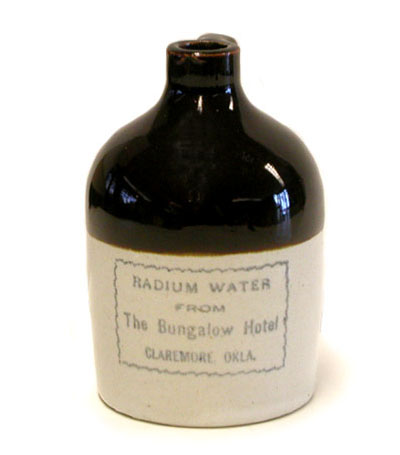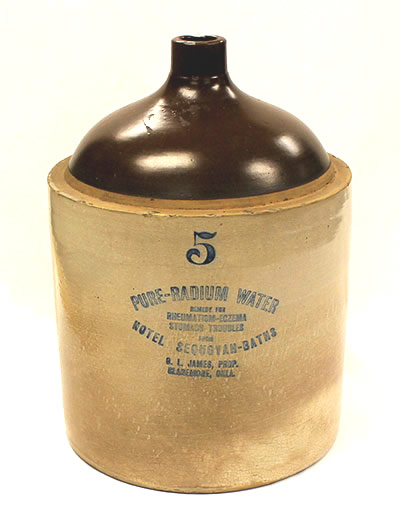 Hotel Sequoyah
The Hotel Sequoyah, was located at the southwest corner of Missouri Avenue and Third Street. The radium water baths were in an adjacent building. Sadly, the Sequoyah Hotel no longer exists.
Built by John Bayless, a local business man, it opened in 1902.
You can't tell from the pictures, but this 5 gallon jar is much larger than that from the Bungalow Hotel.
Size: ca. 16" high
Claremore, Oklahoma
Claremore was well known as the home of Will Rogers, and just as well known for its radioactive waters. Rogers frequently mentioned the town in his newspaper articles and on his radio broadcasts. The "greatest one-night stand health resort in the world" he once called it.
In 1903 George Eaton was drilling for oil or gas in an area just outside of Claremore. Instead of either, up came a foul smelling water. The water was promoted as being radioactive and a cure for a wide variety of ailments. To cater to the tourists, a number of bath houses were constructed in an area that became known as Radium Town (now inside the Claremore City limits). At one time, these bath houses were Claremore's biggest industry but today they are all closed and the area has fallen into disrepair.
Reference