Arium Radium Tablets (ca. 1925)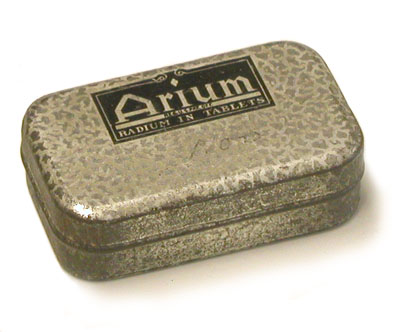 This tin container held forty-two tablets of "genuine radium." At the time of manufacture (ca. 1922-1927), it only cost one dollar. Most of the tablets have broken open although a few are still intact. The manufacturer, Associated Radium Chemists, Inc. of New York, stated, "Take two tablets with glass of water before or after each meal. To derive the most beneficial effects, ARIUM should be taken regularly as directed."
Size: 3" x 2" x 1"
Exposure rates: ca. 1-2 uR/hr above background at one foot, ca. 30 uR/hr above background on contact
An analysis of Arium by the Department of Agriculture in 1926 indicated that the tablets were mainly composed of lithium carbonate, starch and talc., with 8.58 nanocuries of radium in each tablet. The following year another "analysis of the article by this Department showed that it contained radium [2.6 nanocuries per tablet] and strychnine."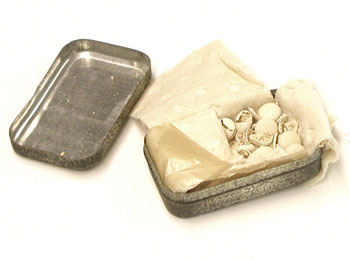 Associated Radium Chemists, Inc. was a William J. Bailey operation—the first of his many companies, all short-lived, that sold radium containing nostrums. Unfortunately, not all of Bailey's products were as harmless as Arium. The most infamous was Radithor, a radium-containing solution that was responsible for the death of Eben Byers.
Learn about the William Bailey and Radithor.
Read about another of Bailey's products, the Radiendocrinator.
The company operated from 1922 (or so) through 1927 and were located at 461 Eighth Avenue in New York City. It is possible that the company might have begun operations as early as 1920—one booklet for Arium Tablets has the following (date?) on it: 8-25-20 9841. There was also an Associated Radium Chemists office in Baltimore.
Although Arium was their signature product, Associated Radium Chemists also produced Linarium (a liniment), Ointarium (an ointment), Dentarium (a dentifrice), and Kaparium (a hair tonic), Dax (for coughs) and Clax (for infuenza).
A few testimonials:
"Radium ends agony of rheumatism. Neuritis, neuralgia and gout. Say doctors—How Arium—radium in simple harmless tablets often bring amazingly quick and lasting relief to even seemingly hopeless cases. $5,000,000 reward if they fail." (Newark Ohio Advocate. February 9, 1923).

"Is rheumatism dragging you into old age? How radium reduces inflammation, relieves pain and renews the energy and vigor of youth—Arium now recommended by leading physicians as the new harmless way to obtain radium for internal use. $5,000 reward if they fail." (Newark Ohio Advocate. February 16, 1923). Notice the decrease in the amount of the reward?

"Recent investigation shows that the "pep" energy, endurance and nerve force of the average man past 40 may often be increased by 100 per cent by getting into his system the marvelous restorative radium power of Arium." (Zanesville Signal. December 2, 1926).

"I feel like a kid." (Reverend H. McKenna after taking Arium tablets Zanesville Signal. December 11, 1925).
The ad to the right is the earliest I have found for Arium Tablets. It appeared in the November 2, 1922 issue of the East Liverpool Evening Review.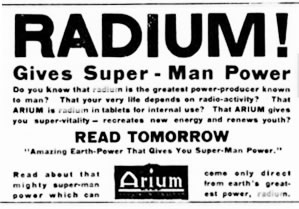 The last advertisement I have found for the tablets was from 1927.
In June of 1926, The United States attorney for the District of Maryland filed an order for the "seizure and condemnation of 56 packages and 135 boxes of Arium tablets" that had been shipped from New York by Associated Radium Chemists. The stated reason was that the company's claims "regarding the curative and therapeutic effects of said article, were false and fraudulent." The case was identified as the United States versus 56 Packages of Arium Tablets. I know which side I would have been pulling for.
Also in June of 1926, the United States attorneys for the Western District of Pennsylvania and the District of Connectict filed similar orders for the seizure and condemnation of additional packages of Arium tablets. Packages of tablets shipped in February and July of 1927 to Tacoma, Washington would suffer the same fate: destruction at the hands of the United States marshall. It must have been a difficult time for Bailey and it wasn't long before he shut the doors to Associated Radium Chemists and moved to New Jersey.
References
Bureau of Chemistry. Misbranding of Arium Tablets. U.S. v. 56 Packages, et al., of Arium Tablets. (F.&D. Nos. 21116, 21117, 21118, 21119). Notices of Judgment 14533.
Misbranding of Arium Tablets. U.S. v. 3 dozen Packages, et al. of Arium Tablets. (F.&D. Nos. 21113, 21114, 21115). Notices of Judgment. 15069.
Bureau of Chemistry. Misbranding of Arium. U.S. v. 70 Boxes of Arium. (F.&D. No. 29164). Notices of Judgment 20382.