The Nico Clean Tobacco Card (ca. 1990s)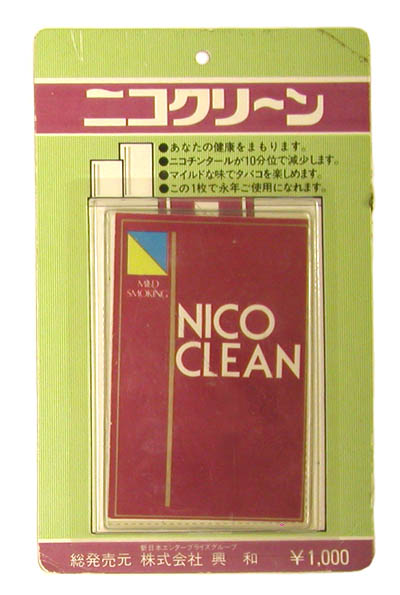 The NICO Clean Plate was manufactured in Japan, and imported into the U.S. by Marine America, Inc., of Seattle.  
The NICO Clean card, like the NAC plate, is about the size of a credit card. Both incorporate low-grade radioactive ore. According to the information on the back of the card, placing the NICO Clean in a package of cigarettes for twenty minutes would "enhance your cigarette smoking while... lowering tar and nicotine—17% average... produce milder smoking with no sacrifice in taste... 50% reduction of toluene."  
Unlike the NAC Plate, the NICO Clean is a laminated folded cardboard card with the radioactive material sandwiched inside the fold. 
Neither the NICO Clean card nor the NAC plate has sufficient radioactive material to be easily detected with simple hand-held instrumentation.
The card pictured here (donated by the State of Arizona) was intended for the U.S. or European market—hence the instructions in English on the back of the card. We are especially grateful to C.D. Carson for donating a version of the card intended for the Japanese market and for providing specific information regarding the card's construction.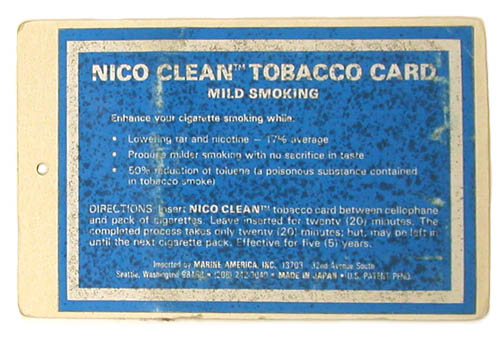 References
Boenig, H., et al. Method of Reducing Irritants in Tobacco by Gamma irradiation. U.S. Patent No. 3,358,694. December 19, 1967.
Aoki, T., Nishida, N. Method of and Container for Treating Tobacco to Reduce Alkaloid and Tar Content Thereof. U.S. Patent No. 3,589,374. June 29, 1971.