Radio X Suppositories (ca. 1920)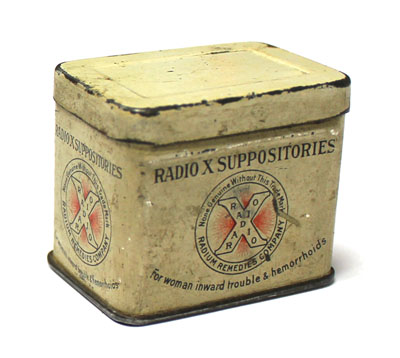 An empty tin that once contained mildly radioactive suppositories.
That the suppositories were probably radioactive is suggested by the presence of radium (albeit in low amounts) in a similar product manufactured by the same company: Radio X Tablets.
For a lot of information concerning the manufacturer, the Radium Remedies Company, and its president, Robert McKnight, click on the above link to the Radio X Tablets.
Size: 1.75" x 1.5" x 1.2"
Quoting a description from a Radium Remedies Company brochure (A Modern Remedy—Not a Drug. ca. 1919):
"Hemorrhoids (Piles), Ovarian Troubles, and Female Weakness."

"Lessen the danger, the suffering, the embarrassments and the annoyance. Use Radio-X Suppositories, the strengthening, soothing, antiseptic preparation which has relieved thousands."

"Of course, if you are a sufferer from this dread disease, you have tried and tried again to find something that would give you relief, but probably have failed to find it..."

"Radio-X Suppositories are put up in cones, thus insuring safety, cleanliness and ease in using, while at the same time enabling the medicine to reach the seat of the trouble..."

"You should not delay in procuring and using Radio-X Suppositories. Do not put it off until tomorrow..."

"Remember that Radio-X Suppositories are sold by druggists everywhere at 50c - $1.00 per box, but if for some reason your dealer should not be able to supply it, send direct to Radium Remedies Co."
References
P.N. Herbert. God Knows All Your Names. AuthorHouse 2009.
Radium Develops Asthma Cures. Pittsburgh Press. July 25, 1917
Radium Rays remedies. Pittsburgh Press. August 8, 1917.
Radium Works Wonderful Cures. Pittsburgh Press. October 11, 1917
Advertisement. Pacific Ports. Volume 4. November 1921.