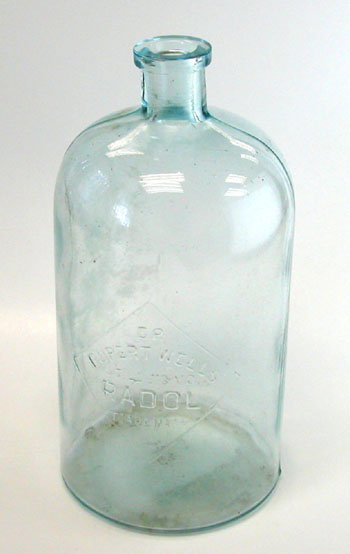 Radol was promoted by its creator, Dr. Rupert Wells (his real name was Dennis Dupuis), as "radium impregnated" and a "marvelous radiotized fluid" that would cure cancer. 
Wells was being less than honest. Quoting Samuel Adams in The Great American Fraud: "Radol contains exactly as much radium as dishwater does, and is about as efficacious in cancer or consumption." 
The reality was that Radol was a mix of quinine sulphate and alcohol, a combination that produced a bluish fluorescent glow which Wells claimed was due to (non-existent) radium. Well's fraudulent claims ultimately caught up with him and he was put out of business by the Post Office when it denied him the use of the U.S. Mail.  Where were FedEx and UPS when you needed them?
The ironic thing is that it would have been better if all the radium quack cures of the time were as fraudulent as Radol.
The embossed label on the bottle reads: 
DR. 
RUPERT WELLS 
ST. LOUIS MO
RADOL
TRADE MARK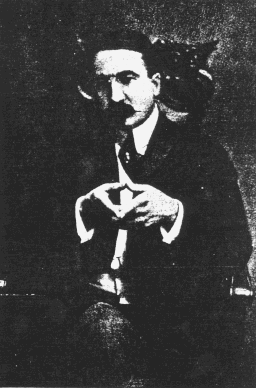 The bottle's original paper label is missing. At least one version of the label read "This bottle contains Radol a radium impregnated fluid, prepared according to the formula and under the supervision of Dr. Rupert Wells. St. Louis MO. This fluid is not expected to retain its radio activity beyond 40 days from the date of this label." This was followed by the name and address of the customer, directions for use e.g. "take one tablespoon in a wineglass of water before each meal and at bed-time."
While it lasted, Well's had a good thing going. In 1908 alone, he shipped 7,800 treatments at an average price of $10 each.
Size of bottle: 10" tall, 4 1/2" diameter
Donated by David Allard.
References
Young, J.H.

 

The Toadstool Millionaires: A Social History of Patent Medicines in America before Federal Regulation.

 

Princeton University Press. 1961.
S. H. Adams,

 

The Great American Fraud

 

P.F. Collier. 1906.