Sparklet Syphon (ca. 1930s)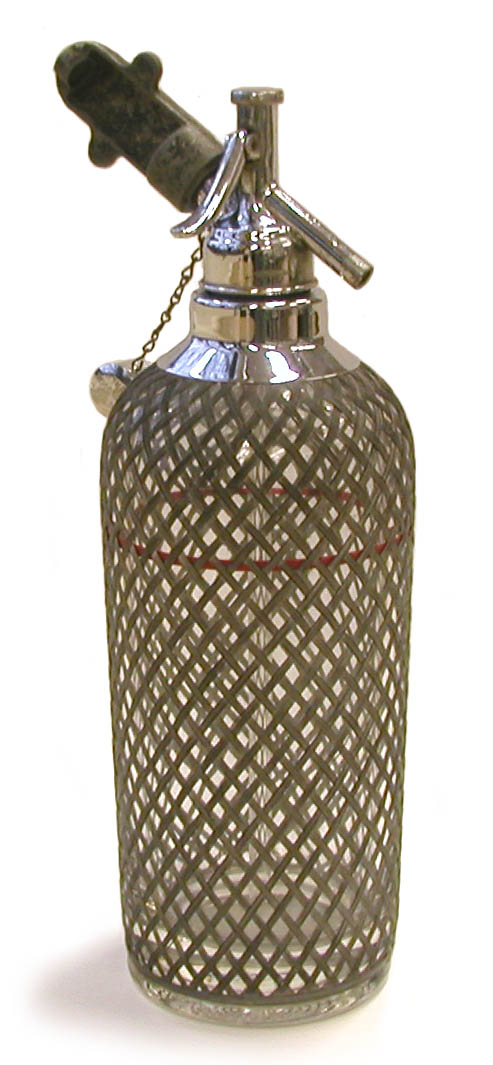 This syphon, sold by Sparklets Corporation of New York, was primarily designed to produce carbonated water.  The reinforced bottle was filled to the red line with water and a small bulb containing compressed carbon dioxide was connected to the inlet valve seen in the upper left corner of the photo (the cap for the inlet is attached to the syphon with a chain). The carbon dioxide was then released into the water. When needed, the now carbonated water was ejected through the nozzle (pointing towards the lower right).
The company also sold bulbs containing radon (radium sparklets) that, according to one of the company's advertisements, "provides a constant supply of radioactive water." Alas, the collection does not yet have one of these bulbs. Neither does it have a copy of the British Patent for the radium sparklets, Patent No. 203848.
Sparklets Corporation was a subsidiary of Sparklets Limited of Great Britain. The bottle itself was manufactured in Czechoslovakia.
Size: 13" tall, 4" diameter
Donated by Christine Klimczak.  Thanks to Gary Sloane for locating the patent.
References:
Product advertisement. No date.
J. C. Barr. British Patent. Patent Number: GB203848. Sept. 20, 1923.
The patent abstract is as follows: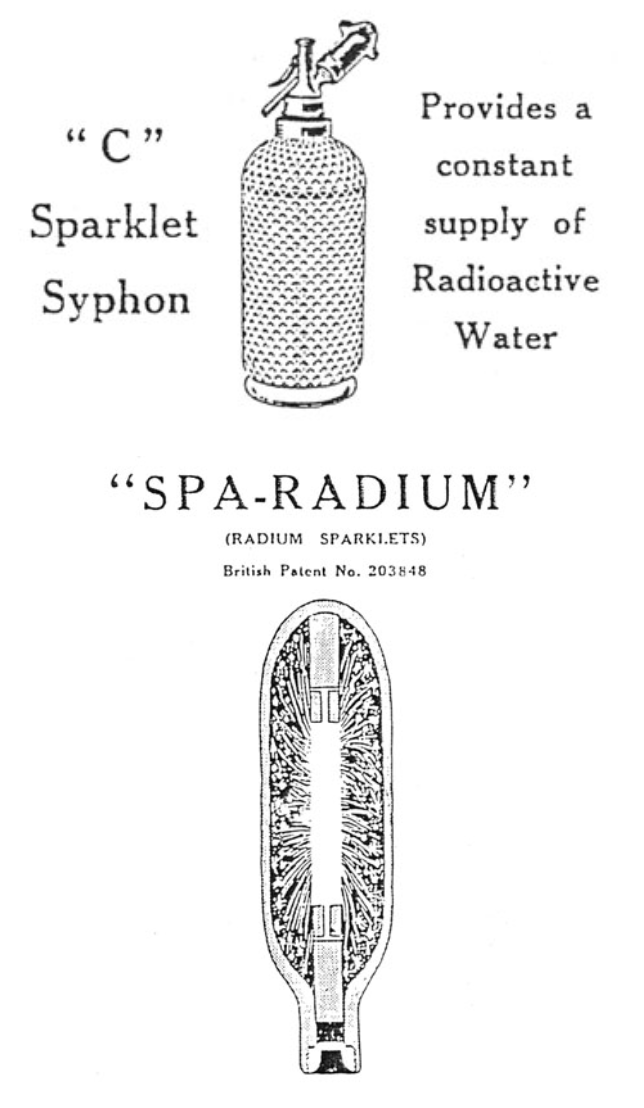 --------------------------------------------------------------------------------
"Storing under pressure. Capsules, cylinders, or like containers for compressed or liquefied gas are provided internally with means for holding a radioactive substance in such a manner that the latter is retained in the capsule or the like when gas is discharged and so can be used to impregnate successive charges of gas with emanation. The radioactive substance may be mounted on a support capable of being removed from the container or it may be attached to the inside of the container by varnish or applied as a paint. In one modification a carrier B supporting by means of wing-pieces b the radioactive pad C is introduced into a small perforatable capsule or "sparklet" before the latter is charged. The carrier can be readily removed from the capsule. In another modification, radioactive material C is suitably supported on a rod b attached to the valve-piece a of the cylinder A."
The following image of a Sparklets Ltd. brochure was provided by Julian Lea-Jones.