Standard Radium Solution for Drinking (ca. 1915-1925)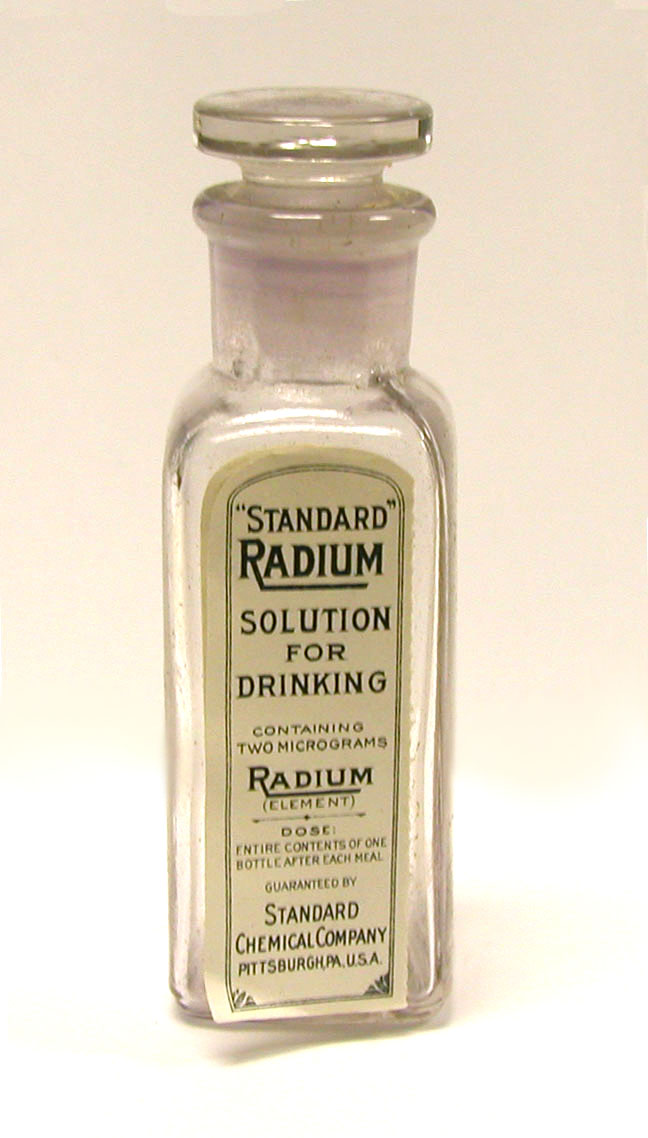 What we have here is an empty bottle of Standard Radium Solution for Drinking produced (ca. 1915-1925) by the Radium Chemical Company of Pittsburgh, a subsidiary of Standard Chemical Company.
View the contents of a photographic album showing the operations of Standard Chemical.
If you look closely, you can see that the label is hinged at the right. In fact the hinge is perforated so that it can be torn off. The portion of the label that would remain attached to the bottle is very similar except that none of the text from "DOSE" on down is included.
The label claims that the solution contained two micrograms of radium element. This equates to two microcuries of radium-226. The amount of radium-228 would be somewhat less. The following advertisement notes that radium emanation (radon) would be in equilibrium after 30 days. In other words, there would be 2 microcuries of radon (5,400 Mache units) as well as 2 microcuries of radium per each bottle.
A company advertisement featuring the "Standard" Radium Solution stated:
"Each bottle contains two micrograms radium in 60 cc. aqua dist. Maximum-equilibrium constant of radium emanation [radon], 5400 mache units."
One mache unit represented 364 pCi of radon per liter.
Other fine products from the Radium Chemical Company: Standard Radium Solution for Intravenous Use "in ampulles of 2 cc. N.P.S.S. containing 5, 10, 25, 50 or 100 micrograms element," the Standard Radium Compress, the Standard Radium Solution for Bathing, and Standard Radium Earth.
According to the advertisement it would help with:
"Subacute and Chronic Joint and Muscular Conditions. High Blood Pressure. Nephritis. The Simple and Pernicious Anemias."
There were no patents or trademarks associated with the product.
Size: 4 1/2" high
Donated by Richard Scherberger.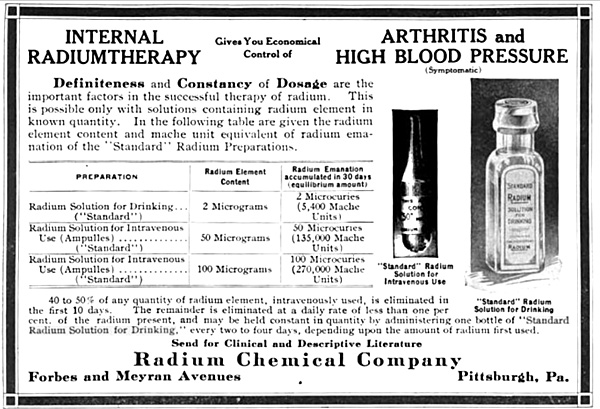 The following quotes are taken from a 1915 report published by the American Medical Society's Council on Pharmacy and Chemistry (JAMA, Vol. 64(2), 1915). The Standard Radium Solution for Drinking was:
"accepted by the Council on Pharmacy and Chemistry of the American Medical Association... based largely on evidence supplied by the manufacture... The Council desires physicians to understand that the acceptance of an article does not necessarily mean a recommendation, but that, it complies with the rules adopted by the Council"

"[each bottle contains] a solution of 2 micrograms of radium element and 1.3 milligrams of barium chloride per bottle of 60 Cc... In view of the small barium content it is claimed that the physiologic action of barium may be ignored."

"The manufacturers recommend that from 60 to 180 Cc. (one to three bottles) of Standard radium solution for drinking should be taken daily, during or after meals."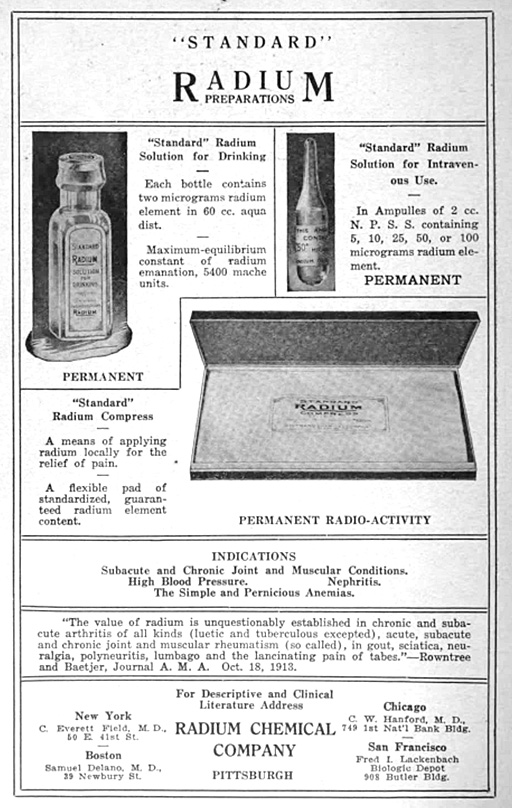 The earliest mention I have seen of the Standard Radium Solution appeared in a note in the October 1913 issue of Radium (Vol. 2(1) 1913), the in-house publication of Standard Chemical Company:
"A very interesting display of radium salts and pharmaceutic radium preparations was exhibited by the Radium Chemical Company of Pittsburgh during the Annual Meeting of the Medical Society of the State of Pennsylvania... September 22nd to 25th, 1913. The display consisted of radium salts... radium solutions for injection. Radium drinking water, radium bath water, radium, radium compresses and radioactive earth."
I don't know who came up with the idea to manufacture these products. Perhaps it was Charles H. Viol, the Research Director for SSC. Or maybe, it was Joseph Flannery, the company president. In May of 1913, Standard Chemical Company hosted an open house. As part of the tour, visitors could check out Flannery's office and drink from "glass water coolers" on his desk to get "their first taste of radium water" (Pittsburgh Post-Gazette, May 26, 1913).
No matter whose idea it was, the men responsible for the production and promotion of Standard Radium Solution for Drinking (and related products) were Dr. Emil F. Krapf (1885-1915) and William Herron Cameron MD (1879-1944).
Emil F. Krapf graduated from Columbia University in 1909 with a doctorate in chemistry. After a year with the New Castle Water Works, he moved to Pittsburgh to work for the Radium Chemical Company (a subsidiary of Standard Chemical Co). His job: establish and manage its pharmaceutical department. Unfortunately, after three or so years with Radium Chemical, he died of pneumonia (Pittsburgh Daily Post. Apr. 10, 1915). Whoever took over the pharmaceutical department following Krapf's death appears to have been satisfied with the product line - nothing new was added after 1915.
William H. Cameron, a Radium Chemical Company physician, investigated the medical applications radium and was their chief spokesman in this regard. Cameron was also the director of Pittsburgh's Free Radium Clinic and editor of Radium (along with Charles Herman Viol), a company publication that featured articles such as "Influence of Intravenous Injection of Soluble Radium Salts in High Blood Pressure."
Cameron, like many physicians at the time, believed that medical benefits would result from drinking radioactive water, or even injecting it. In hindsight, it would have been better if the company's products were fraudulent and contained no radium. Looking back on his career with Standard Chemical Company, Arthur Miller would say:
"I shudder when I think of the gallons of "Radium Drinking Water" we made and sold: 2 micrograms Ra in 50 cc (one dose)—put up in glass stoppered bottles—and even more—the 50 and 100 microgram (in 2 cc physiological salt solution) for intravenous injection!"
Reference
Arthur Miller. "Personal Reminiscences of the Early History of the Radium Extraction Industry in the USA." in Argonne National Laboratory Health Division Gamma Ray Spectroscopy Group Research Report. July 1965 through June 1968. July 1968.