Wood Bite Blocks (ca. 1935-1945)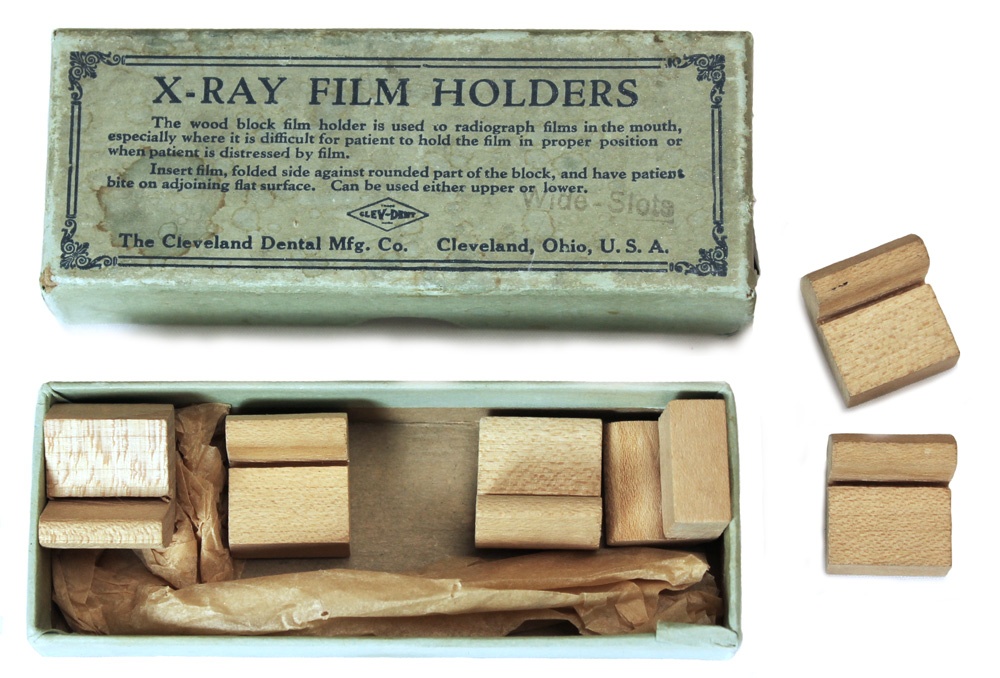 In case it can't easily be read, the text on the top of the box states: "The wood block film holder is used to radiograph films in the mouth, especially where it is difficult for patient to hold the film in proper position or when patient is distressed by film. Insert film, folded side against rounded part of the block, and have patient bite on adjoining flat surface. Can be used either upper or lower." Produced by the Cleveland Dental Manufacturing Company of Cleveland, Ohio.
Identical blocks are illustrated in a 1937 Paragon X-ray Supplies catalogue. The catalogue refers to them as "Wood Bite Blocks." The following is from the aforementioned catalogue: "Bite blocks allow the patient to close the teeth and relax. The film is inserted in the slot and may be bent slightly to conform to the curvature of the mouth before being placed in position; this will prevent irritation of the soft palate which is often the case where the patient holds the film with the finger." "Box of 10 blocks... $0.25."
Size: The box is approximately 1.5" x 4" x 0.75" and the individual wood block are approximately 0.7" across.
Reference
Paragon X-ray Supplies and Accessories. Geo. W. Brady & Company. 1937.