Patterson Hand-Held Fluoroscope (ca. 1940s)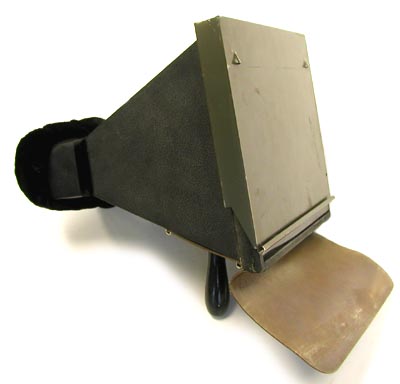 This hand-held fluoroscope was manufactured by the Patterson Screen Company of Towanda, Pennsylvania probably in the 1940s. The estimated date is based on the fact that the warning tag (photo below right) identifies Patterson as a division of Dupont—DuPont purchased Patterson in 1943.
It is a little more advanced than the other Patterson hand-held fluoroscope in the collection. For example, note the leaded rubber apron in front of the handle to reduce the X-ray dose to the physician's hand. 
The body of the fluoroscope is covered with black leatherette and the viewing port is protected from stray light with a fur-like fabric.
The screen on this example consists of a layer of cadmium tungstate deposited on the inside of the glass plate that forms the broad end of the device. Patterson pioneered the use of cadmium tungstate as a replacement for calcium tungstate. In the photo above right, the glass screen is protected with a metal cover.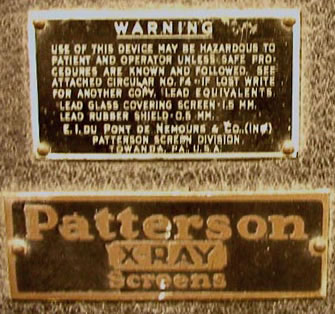 In the 1920s through 1940s, Patterson screens were the recognized standard in the U.S. With the X-ray beam on, the physician would stand on the far side of the patient and view the image produced on the fluorescent screen of the fluoroscope. Compared to generating images on X-ray film, the use of the fluoroscope resulted in higher doses to the patient and doctor (who would not otherwise be exposed to the direct beam
Patterson produced an almost identical fluoroscope until the early 1950s at which time they appear to have gotten out of the hand-held fluoroscope business. "DISCONTINUED BY MANUFACTURER" was stamped in large red letters across the descriptions of the two Patterson hand-held fluoroscopes in a 1953-1954 catalog of the General Electric company. The price at the time of this model: $98.
Here is the text from the catalog:
"These hand fluoroscopes were developed in response to a demand for an instrument providing greater protection to the operator. Each has a Patterson Type B-2 screen, glass with minimum lead equivalent of 1.5 mm, shield with equivalent of 0.5 mm lead, and weighs 6 pounds.
The 8" x 10" Hand Fluoroscope [the model seen above] has a screen completely protected by the best quality ground and polished lead glass in a dust-proof unit. The hood is constructed of laminated wood providing maximum strength with minimum weight. It is finished in black leatherette. A well-made eyepiece formed to fit the face excludes all light. To prevent dust from entering and settling on the lead glass, a piece of clear glass is mounted directly in front of the eyepiece. A rubber shield affords additional area of protection."
Donated by Mrs. Tumbokon with assistance from Dr. David Adcock.
Size: Screen approximately 9" x 11"
Reference
General Electric Catalog. X-ray Supplies and Accessories. 1953-1954.