Caulk X-Ray Film Chest (ca. 1934)
What we have here is a lead-lined mahogany chest for storing x-ray film. The chrome plate on the top reads "Caulk X-ray Film Chest."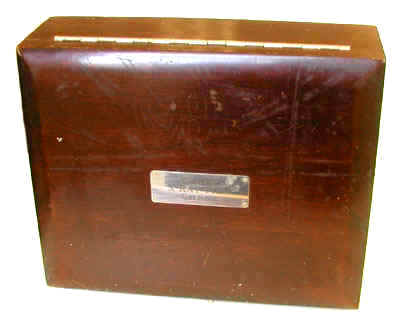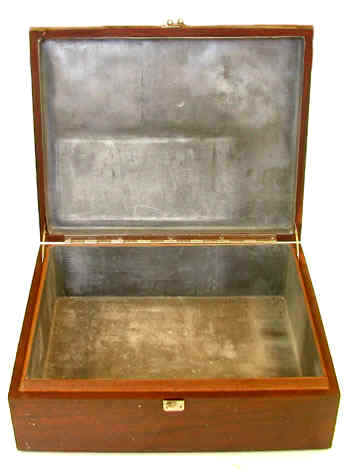 L. D. Caulk, a dental supply company (still in business), was founded in the late 1800s by Dr. L. D. Caulk in Camden, Delaware. In 1901, it was taken over by Caulk's partner, Dr. G. Layton Grier, and the latter's five brothers. Shortly thereafter, the company operations relocated to Milford, Delaware.
The only specific reference to the chest that I have found dates from 1934. Quoting the Dental News (Volume 17, 1934):
"By the simple device of filling one of the new Caulk X-ray film chests with several standard Caulk products, the dentist is able to save S8.00 on items in every day use in his office. The Caulk chest for X-ray films is of solid mahogany lined throughout with lead for preventing the X-radiation of unexposed films and to assist in keeping exposed films clean and dry to prevent their fogging. The chest as it arrives in the dentist's is filled with Caulk products including four powders and three liquids for synthetic porcelain, ten ounces of Twentieth Century Alloy and four colors of Caulk cement. A pound bottle of Caulk's Twentieth Century Mercury and a temperature flask are among the other items included in the chest which lists at $47.00."
Size: 10" x 12" x 4"
Kindly donated by David Allard.