"Pee Wee" Model 2111 Alpha Counter (1949-1953)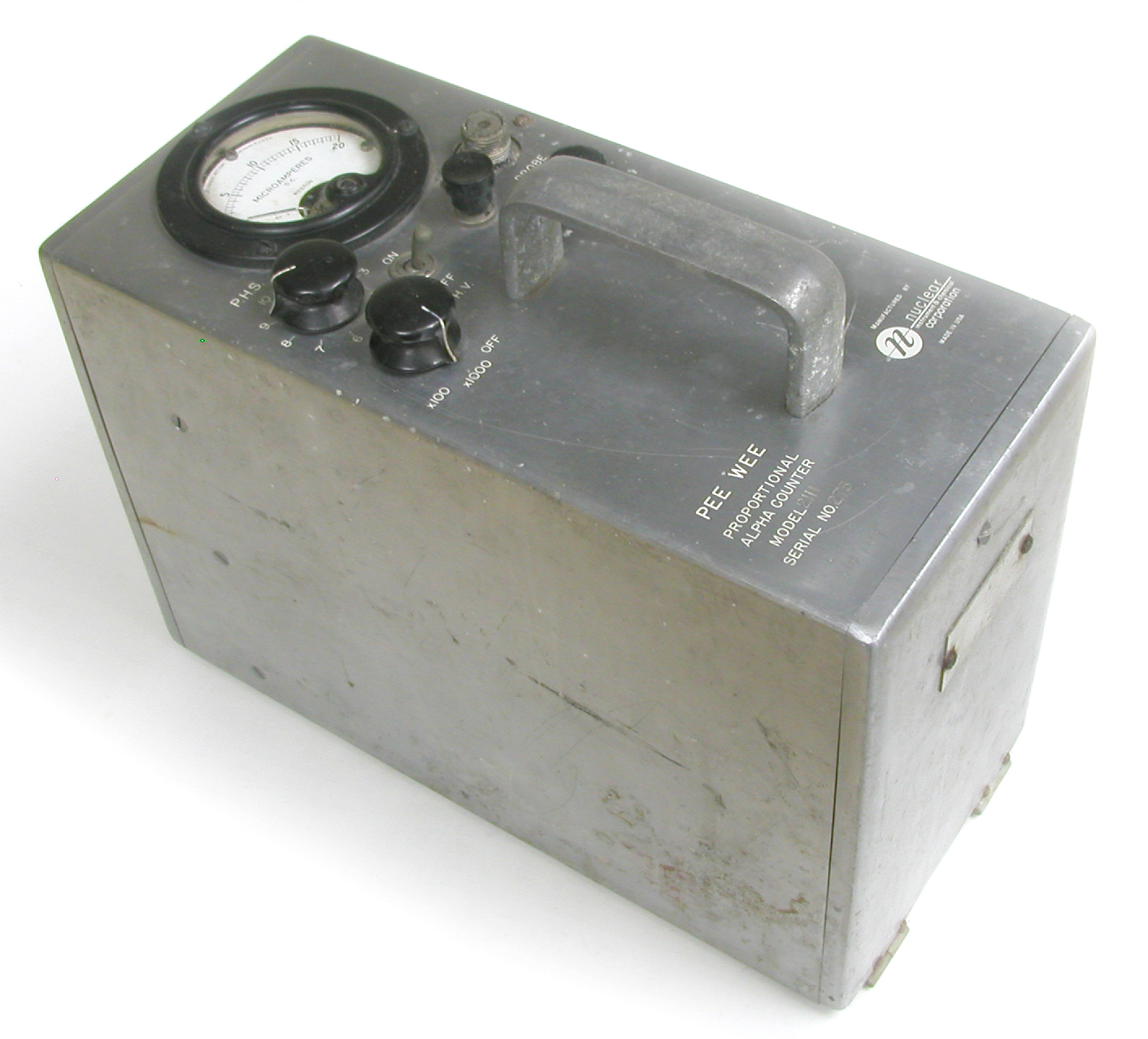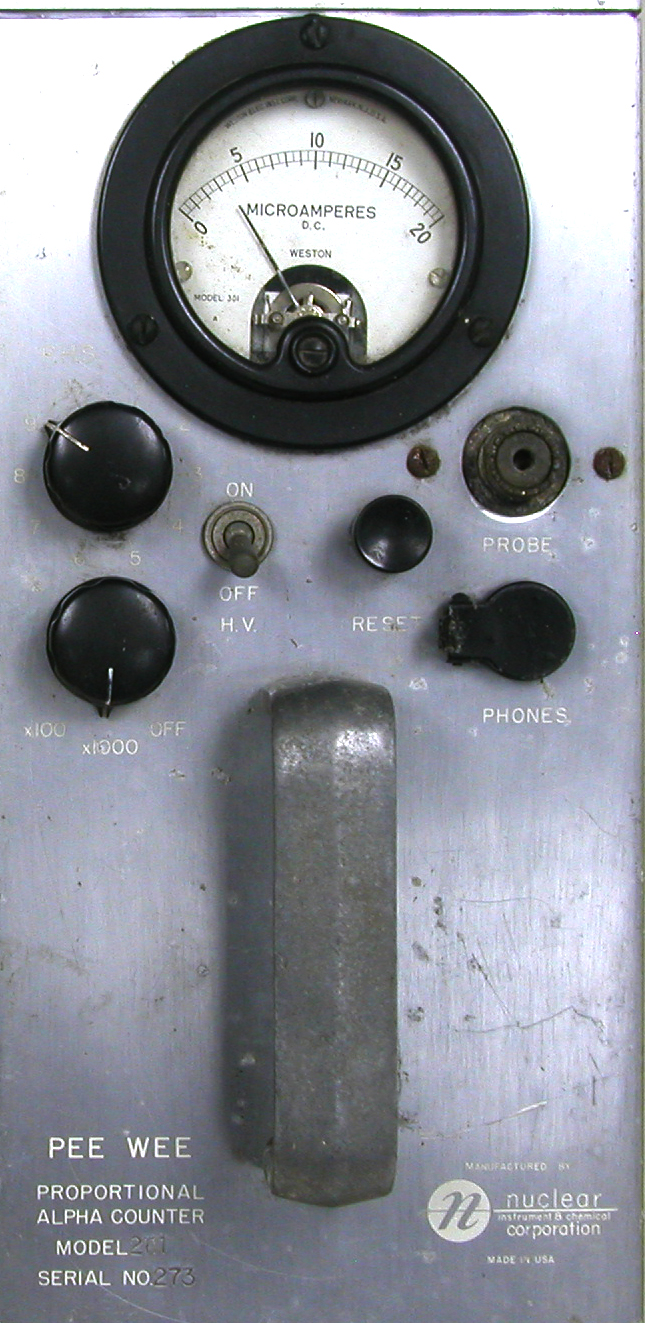 This is a "Pee Wee" Model 2111 air proportional alpha counter manufactured by Nuclear Instrument & Chemical Corporation. Unfortunately, this example is missing the probe (and the headphones). The Pee Wee was developed in 1948 at Los Alamos National Laboratory. Production seems to have begun the following year.
The company, founded in 1946 by James Schoke, John Kuranz and Thomas Mitchell, was originally known as the Instrument Development Laboratories. A year later, in 1947, it became the Nuclear Instrument & Chemical Corporation (the new name started to be used in 1948). In 1954 the name changed once again, this time to Nuclear-Chicago.
There are four main controls: a three position range switch (Off, x100, x1000), a Reset button, an H.V. (high voltage) switch that allows the user to turn the high voltage (2200 V) on or off, and a PHS (pulse height selector) dial that allows service personnel to adjust the pulse height window. In addition, there is a recessed bias adjustment on the right side of the case.
Detector: Air proportional probe (missing)
Range: 0-2,000, 0-20,000 cpm (however, meter reads microamperes)
Audio: No speaker, but has jack for headphones (headphones missing)
Size: Approximately 8" x 12" x 5.5"
Weight: 16 lbs
Batteries: Two 1.5 volt (Burgess TE), one 67.5 volt (Eveready 467) and two 1224 volt (Eveready W-5)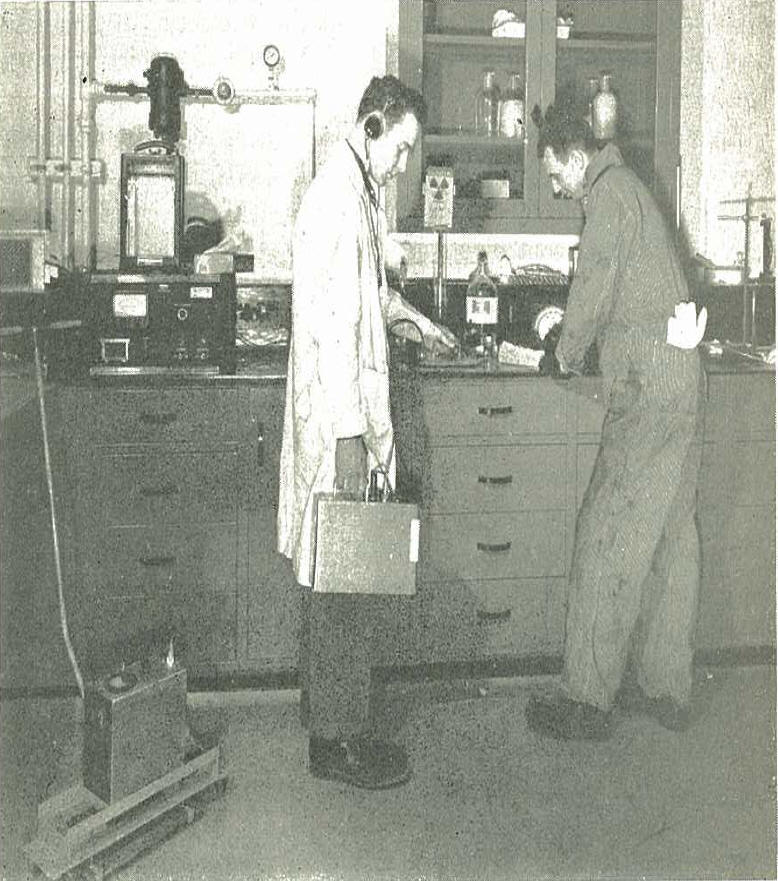 References
Larkins. Design and Construction of the "Pee Wee" Portable Proportional Alpha Survey Meter. LAMS-740. 1948.
Gray and Martens, Radiation Monitoring in Atomic Defense. D. Van Nostrand Co., 1951.
Product description. January issue of Nucleonics, 1950, p97.
AEC Radiation Instrument Catalog, page date June 24, 1949.
AEC Radiation Instrument Catalog No. 3. Page SPC-1C. July 1, 1952.
AEC Radiation Measuring Instruments, RIB-8 (supplement 2) Page. SPC-1C. July 1, 1954.