Doctor Dreadful Nuclear Blob Mix (mid 1990s)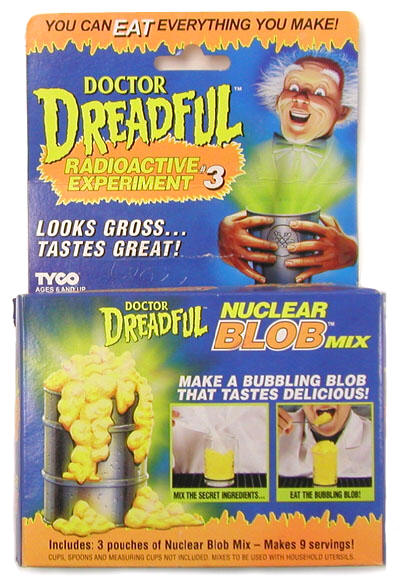 This is the third of Tyco's Doctor Dreadful Radioactive Experiments. The first was the Nuclear Freeze, and the second was the Nuclear Explosion.
"Gross-looking, great tasting experiments! Try 'em all!"
To conduct the "experiment," you simply mix the two ingredients (Nuclear Blob Parts 1 and 2) and voila, you have a bubbling yellow blob. Just like the scene in the back of Homer Simpson's Nuclear Waste Truck.
The contents: sugar, more sugar, algin, artificial flavor, sodium phosphate, tumeric, citric acid, sodium bicarbonate and calcium lactate.
Nutritional data (per serving): 490 milligrams of sodium, 18 grams of carbohydrates and 16 grams of sugars. All of this adds up to 70 calories.